The Bachelor and The Bachelorette cast rejects are getting another shot at love. Or at least $250,000 in a ridiculous new reality TV competition, Bachelor Pad.
A group of cast members from seasons past will be living in that mansion once again, angling for that huge cash prize via team and individual competitions.
No, you're not being punked. This is seriously happening.
The ranks are stacked with those who sought the affections of Ali Fedotowsky, Jake Pavelka and Jillian Harris in the franchise's three most recent installments.
Wes, Kiptyn, Tenley, Gia, Crazy Dave (below), Crazy Michelle and more lead the way, with some older faces thrown in there as well to give us 19 in all.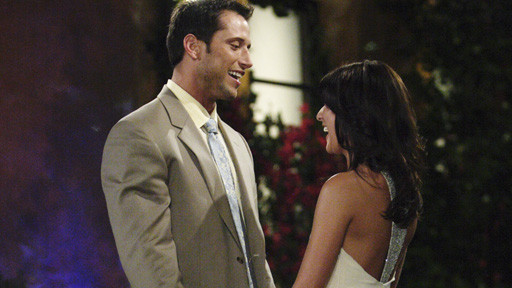 So many others, too. Below is the list of competitors (and for the scoop on the rest of the current season, be sure to check out these Bachelorette spoilers)...
Ashley

Elmore

, The Bachelor, Season 14 (Jake)
Craig McKinnon, The Bachelorette, Season 6 (Ali)
David Good, The Bachelorette, Season 5 (Jillian)
Elizabeth Kitt, The Bachelor, Season 14 (Jake)
Gia Allemand, The Bachelor, Season 14 (Jake)
Gwen

Gioia

, The Bachelor, Season 2 (Aaron)
Jesse

Beck

, The Bachelorette, Season 6 (Ali)
Jesse Kovacs, The Bachelorette, Season 5 (Jillian)
Jessie

Sulidis

, The Bachelor, Season 14 (Jake)
Jonathan Novack, The Bachelorette, Season 6 (Ali)
Juan Barbieri, The Bachelorette, Season 5 (Jillian)
Kiptyn Locke, The Bachelorette, Season 5 (Jillian)
Krisily

Kennedy

, The Bachelor, Season 7 (Charlie)
Michelle

Kujawa

, The Bachelor, Season 14 (Jake)
Natalie Getz, The Bachelor, Season 13 (Jason)
Nikki

Kaapke

, The Bachelor, Season 13 (Jason)
Peyton Wright, The Bachelor, Season 10 (Andy)
Tenley Molzahn, The Bachelor, Season 14 (Jake)
Wes Hayden, The Bachelorette, Season 5 (Jillian)
What do you think of the Bachelor Pad cast - and the idea for the show itself? Would you watch it, or are you content with just the standard two shows?

Steve Marsi is the Managing Editor of TV Fanatic. Follow him on Google+ or email him here.

Tags: The Bachelor, The Bachelorette, Bachelor Pad