TV Fanatic Exclusive: Troian Bellisario Talks Pretty Little Liars Character, Midseason Finale
by Arlene G. at . Comments
As Pretty Little Liars heads into tonight's summer finale, and then takes a hiatus until 2011, TV Fanatic is bringing you all the exclusive scoop on what's ahead.
We've already talked to Keegan Allen and Shay Mitchell about their character and various Pretty Little Liars spoilers. Now, it's on to an interview with Troian Bellisario. Read on to see what the actress who plays Spencer has to say...
Is the finale going to be a cliffhanger?
A lot of things are going to get answered. You're going to get to know the answers and then you're going to have to wait. I can imagine people screaming at their TVs if they get excited enough. One of the girls finds out who A is. She has to pay for it in a certain way.
Throughout the season, Spencer has grown a lot. Has it been therapeutic to play someone who is going through all of these hurdles?
It was always really funny to get to scenes like the exchanges she had with her father. It was in episode 105 when she's lying and not telling anyone about the Golden Orchid. Finally she's just has enough with the way her family operates. She doesn't want to stand for it anymore. She goes after the guy she wants, and she's really growing up in a lot of ways, which is really fun to play. It took me until last year to break out of my box, so the fact that she is doing it at 16 is pretty bold.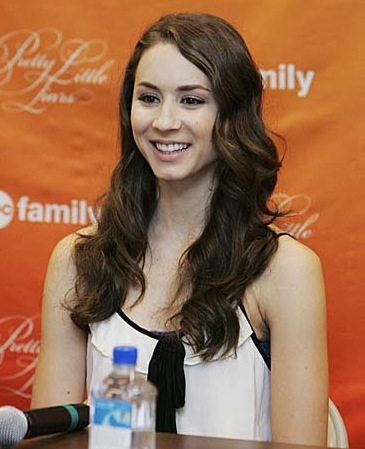 Do you have any similarities with her?
Oh, totally. It's hard because in school I was very much like Spencer. I was obsessive compulsive and anal and everything had to be perfect and I had to be doing this many sports and this many extra-curricular activities. It left me, when I was graduating high school and going onto college, kind of in a bind because I'd just been trying to please so many people in my life that I never once rebelled or thought about "what do I want?"

Now when I go into work to play Spencer, I feel such a connection to that intense pressure that she's putting on herself; this little miss perfect that she feels like she has to be. Literally I feel like I just came out of that three or four years ago.

Has Spencer found a keeper in Alex?
I don't know. It's hard for me to say because I've read all of the books except the last, and I know how many other relationships are in the books, so it's hard. I think Alex is great and she's feeling for the first time, feelings of love. Other relationships have come out of the need to be the center of attention or even the need to just connect with somebody because the Hastings house is so cold.

Have we seen the last of Wren?

I'm really worried because I adored Julian, we had so much fun on the set together, and I really love the character of Wren. He has his own series right now. What I'm hoping is that we can get Wren to come back. Everyone loves a little wrench in the gears. I think if Wren were to come back, I don't know what Spencer would do.

Is Spencer's mother going to be okay?
Yeah. Spencer is finding about it in a time where the danger has passed but the feelings are still there. It's like finding out someone you love was in a really terrible situation and it's going to be ok but they didn't even let you in to help you. In one way it makes Spencer and her mother closer, but in another way it opens Spencers' eyes to her family's shortcomings and where they fail as a family. They find each other as human beings, not just mother and daughter.

If you had to pick a character to live the show through?
I would love to watch it through Alison, because I feel like she would know so much more than any of us. To watch it through her eyes, would be to understand so much that the other 4 girls are just blind to. It would also be really cool to watch it through Ezra's eyes. Because he doesn't know anything that's going on with A. He just sees four girls always running around and freaking out all of the time, and being like "what's going on with Aria?"

Tags: Exclusives, Pretty Little Liars, Reviews, Troian Bellisario