I must apologize to Devin Kelley.
The actress plays Vonda Wysocki, a key character on The Chicago Code, one of this season's best-reviewed shows. Yet I spent far too long on the phone with her last week, asking questions about creator Shawn Ryan's most well-known work to this point: The Shield.
Fortunately, Kelley was a great sport, laughing along with my analysis and saying she was unfamiliar with that FX series or Ryan's role on it when she first auditioned.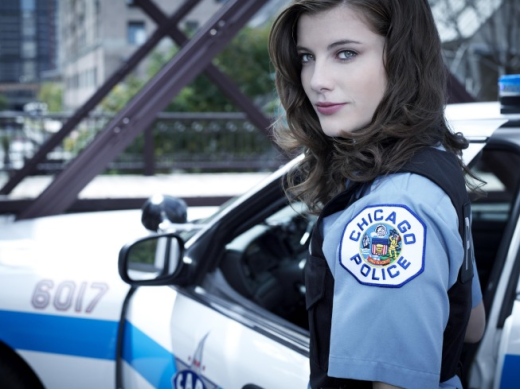 "I was so green and wide-eyed, I didn't have a clue about any of it," Kelley said. "As [landing] the part become more of a reality, though, people kept talking to me about it. Once I got the role, I went back to watch The Shield. I really like it. But I had to stop for a bit because it gave me nightmares."

With that out of the way, Kelley opened up about Vonda and what it took to prepare for a role as a Chicago Police Officer.

On Vonda's work ethic

: She's gonna make her own name. She leans on Jarek and turns to him with questions, but she's not gonna skate by due to the cop legacy of her uncle or father. She wants to do good work and live up to expectations.

On Vonda's upbringing: We'll learn more about her father this season. You get the feeling Vonda doesn't have a great relationship with her mother, that's something Shawn and I discussed. Maybe she isn't thrilled that Vonda entered this line of work. But that doesn't directly come up in any of the episodes we filmed.

On training for the role: Shawn was adamant that we make everything as authentic as possible. The whole cast went on ride-alongs. I know Shawn did so for months and months before even writing the pilot. I went to the gun range, through tactical training... We didn't wanna fall into phoney baloney cop stereotypes... The Chicago Police Department has been unbelievably accommodating.

On filming in Chicago: This show would be a completely different show if we didn't shoot on location. The city is a character in and of itself. It looks beautiful, it's cinematically pleasing. You just get a certain feeling as an actor, when shooting at Lake Michigan or the Miracle Mile... it's hard to explain, there's a grittiness and bravado that Chicago has.

On reading the scripts: Every episode keeps getting better. I'm on pins and needles to see what the writers come up with every time I get a script. And they seriously outdo themselves every time. Shawn is an expert as adding a little twist at the end of almost every episode that it makes the show so exciting.

Matt Richenthal is the Editor in Chief of TV Fanatic. Follow him on Twitter and on Google+.

Tags: Exclusives, The Chicago Code, Interviews