EXCLUSIVE: Torrey DeVitto on Two HUGE Pretty Little Liars Cliffhangers to Come
by Matt Richenthal at .
I started out my interview with Torrey DeVitto today with a simple question: Who is A?
The Pretty Little Liars actress laughed and replied: "I wish I could tell you because that would mean I knew."
Rats. I tried, fans.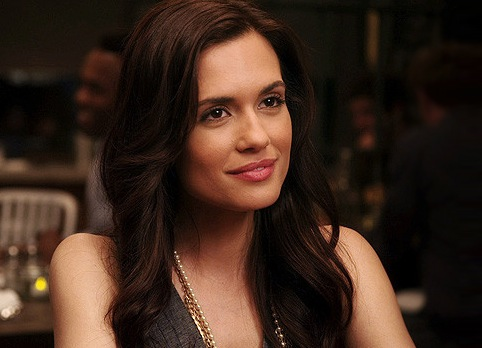 Still, DeVitto did tease a couple of events to come on the finale, while also on touching on subjects such as working with Troian Bellisario and comparing the show to the book series...

Were you familiar with the books before landing the role?

No, I didn't even know it was a book series, but I read the first book when I found out I got the pilot. All the girls look totally different in it than they do in the show.

I know some fans get annoyed when the show veers too far from the books.
It can be tricky. You fall in love with a book, you hear about the casting on a show or a movie... but a TV show has to last for a very long time. It has to keep the suspense going. I think we've taken the online here pretty well and ran with it.

You share many scene with Troian Bellisario. What is it like working with her?
It's awesome, and I'm not just saying that. She's so smart and fun, both on set and in conversations away from the show. There's a good gel between us a good match.

Talk about the development of Melissa. She's gone from being someone sort of bitchy to someone sympathetic.
I grew up in a wealthy town, so at first I played her to match some of the people I knew growing up in school. But as the story went on, I think people started to feel sorry for her: there's the history between her husband and her sister... now her pregnancy... everyone is suspicious of Ian.

What can you tell us about the season finale?
There are two really huge things that happen to Melissa. Well, one thing that happens, she's... not aware that it happened. But she'll have to deal with it next season.

Matt Richenthal is the Editor in Chief of TV Fanatic. Follow him on Twitter and on Google+.

Tags: Exclusives, Pretty Little Liars, Interviews
From Around the Web