Jacob Pitts plays Deputy U.S. Marshal Tim Gutterson on FX's Justified.
TV Fanatic was fortunate enough to speak exclusively with the Connecticut native about his role on the show, which has expanded in the current second season.
Here's our exclusive Q&A with this talented, up-and-coming actor ...
How do you feel about your character being more involved in the second season? Will we continue to see that?
I hope so. We finished shooting about a month ago and I think the difference between the first and second seasons is because I had a conversation with creator Graham [Yost]. The main reason being that I'd been around people from the south, my relatives and such, and when I'm around the Justified cast I find myself slipping into a drawl, sometimes very light and sometimes very heavy. I asked him, 'where am I from'? He'd seen me in a mini-series where I had a very hillbilly voice, and wanted like. I wished he'd told me that before, because I have this new voice and demeanor. Going with that in the second season, it's a bit more defined. As for additional time, I hope so. I wish I was David Lee Roth.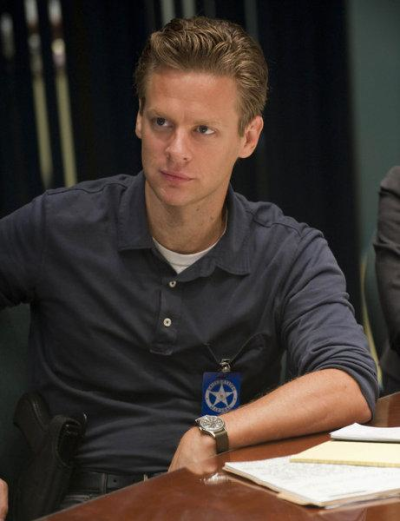 The second season has moved on and gotten more serialized. Your character randomly pops up; will we be seeing his storyline grow? Will he get his own storyline?

I would love to see that. I've talked with the writers about that and pitched things. The show started off as a very episodic and the way Walt Goggins is playing things, and it became a more serialized format. I've got a ton of ideas, but I'm not sure when they will come.

We haven't seen Tim in a while. Will we near the end?

The 11th episode, which is a few weeks from now, I'm assigned to watch Raylan for a couple of reasons that I won't get into. I'm basically in charge of keeping an eye on him. I had a lot of fun doing that particular episode, and it felt like a good opportunity to really have discussions with the writers about the decisions and the limits that the character had. Giving anymore would be spoiling.

Will the Bennecks storyline be resolved?

There will be some resolution, and there will be some doors left open.

The show does a fantastic job with its country feel. How do you get the Kentucky feel filming in California?

They have an unwritten rule of the casting of everyone having a connection to the south and the west. We're shooting most of this season in a place called Green Valley, which had no phone reception and was 30 degrees cooler than the rest of California. It was a town that time forgot, you'll literally waiting for a small train to come by. A lot of the actors never think of those characters in terms of redneck stereotypes.

There is some Emmy buzz around Margo Martindale. Would you like to have a one-on-one scene with her?

That's what they say, yeah. Sure, I'd like to have a scene with her, in the past I've had scenes with her where I'm looking over Raylan's shoulder.

Is it easy to play such a serious character?

Believe it or not, I don't get humor at all. Unless it's completely insane. I play things as seriously as I can. Someone has to tell me often, 'this part is a joke'. The hard part about playing this character is that in my mind, he's very serious and this former ranger. I think I'm the farthest thing from being tough or masculine in my day to day laugh. First season, I felt like such a fake. I watched that season and I despised my scrawniness. That's the hard part.

Is there anything you can give away about what will happen near the end of this season?

I watched Kaitlyn Dever, who plays Loretta McCready in her ultimate scene. She's incredible. She made me feel less masculine. She's this sweet 14 year old, she looks about 12 and I was as equally nervous to meet her because this kid can act circles around me.

She has quite incredible and heroic things coming up.

Tags: Exclusives, Justified, Interviews