Necessary Roughness Set Report: Welcome to the NRL!
by Matt Richenthal at .
USA Network is doing more than debuting a new show on June 29. It's introducing viewers to the Necessary Roughness League!
Indeed, the upcoming dramedy - which stars Callie Thorne as a newly-separated therapist who takes on a bevy of professional athletes as clients  - has gone out of its way to legitimize the sports side of the series. That's what stood out to me the most during a set visit this week.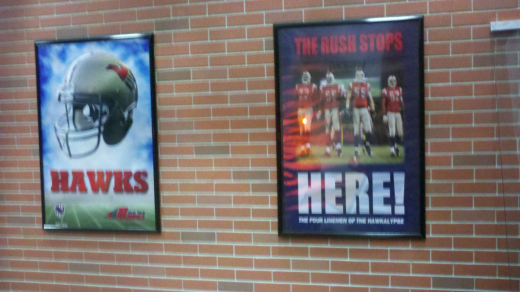 Inside a warehouse in Atlanta, workers have built a locker room that rivals any in the NFL. There are four-walled coaching offices (where we watched Andrea Anders film her first scene), playbooks and posters (above) belonging to the New York Hawks (the team for which Mehcad Brooks plays wide receiver) and lockers with name plates that include references to the show's staff. (Creator/producer Craig Shapiro plays middle linebacker.)

But that's not all: the show has also constructed a fictional four-team league, comprised of ex-athletes such as former Saints wideout Joe Horn. They "auditioned" for their roles by going through actual football drills.

That game you'll see on the pilot? Those plays the teams run? Those tackles that rattle the camera? They are all real.

The show is about a lot more than sports, however. Shapiro describes it as the journey of a woman who "has never been tested and she rises to something she didn't know she had."

Thorne's Dr. Dani Santino resides in Long Island with her two kids, a fact reflected subtly on the set's gorgeous kitchen, which is housed inside a replica of the home in which the series shot its first episode.

Look closely at the fridge. That's a Long Island Railroad schedule.

Such attention to detail, along with the kind of enthusiasm displayed by Shapiro and stars Scott Cohen and Marc Blucas (interviews to come!) made the day on set both educational and enjoyable. They also made me excited for the first season to come.

Matt Richenthal is the Editor in Chief of TV Fanatic. Follow him on Twitter and on Google+.

Tags: Exclusives, Necessary Roughness, Set Visits
From Around the Web