Ian Harding wants to make one thing clear: he is not actually comparing himself to the world's most famous painting.
But when I asked him when the wild popularity of Pretty Little Liars set in, the actor reeled off a humorous anecdote that took place soon after season one hit the air.
"I was in Paris at the Louvre," he said. "And I realized that people were paying more attention to me than to the Mona Lisa... it was a surreal moment and I actually started shaking. I had to go out and have a glass of wine."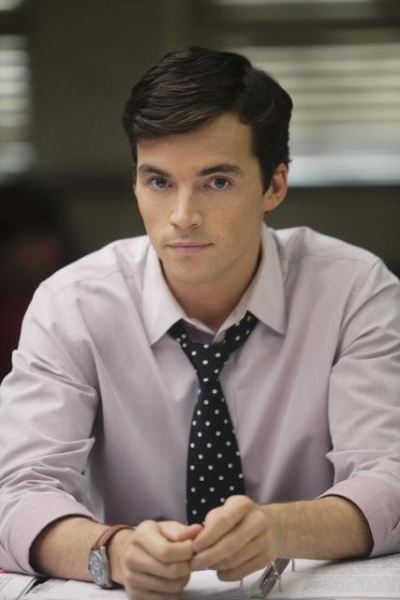 That's what happens when you're one half of one of the hottest couples on TV. Why does Harding think Ezra and Aria resonate so much with viewers?

"There's something about forbidden love," he told me. "Whether you're a teenage girl or a 70-year old man... when two people just know their own truth and they just feel like they must be together. In this situation, we fulfill each other, but under the circumstances, it's wrong, right? It

has

to be wrong. But it feels so right to them."

While last week's episode concluded with a hot kiss between the pair, Harding warns viewers that things won't be smooth sailing for very long.

"There's an exciting arc panning out right now," Harding teased, actually apologizing because he has to remain so vague. "But the teacher/student relationship isn't as big of an issue anymore... something that happens this season will take its place...  if the ball was in my court before - should I really do this as her teacher? - the ball shifts to Aria's court soon."

As for life on the set with four female co-stars, Harding acknowledges that friends tease him about it and, of course, admits the girls are all "stunning." But they are all incredibly intelligent, too, and there are no barriers between genders.

Still, the experience has opened up Harding's eyes a bit: "I do find myself something taking notes: okay, those are stilettos. Those are not..."

Pretty Little Liars airs a new episode tonight. Return to TV Fanatic soon afterward for a full review!

Matt Richenthal is the Editor in Chief of TV Fanatic. Follow him on Twitter and on Google+.

Tags: Exclusives, Pretty Little Liars, Ian Harding, Interviews, Spoilers