TV Fanatic Interview: Chris Gorham on Covert Affairs Character, Condition, Coordination
by Jeffrey Kirkpatrick at .
"Oh, I think it could happen."
So said Christopher Gorham, the man who brings DPD technical operations officer Auggie Anderson to life on USA Network's Covert Affairs, when asked if he believes there will ever be a romantic connection between Auggie and the show's powerhouse lady spy, Annie Walker.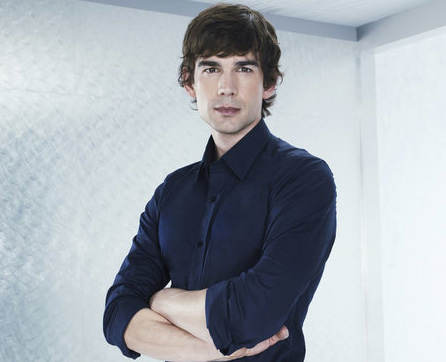 As we've commented on previously, there is something that pops when Annie and Auggie share the screen together, something Gorham agreed with. "If it were to happen many, many years from now…" he continued. "I like those two characters a lot and they get along very well; they complement each other very well. I think they're growing to need each other, which is nice."

Gorham has received a great deal of praise for his accurate portrayal of a blind character who is independent and a strong, functional part of the team with which he works. He attributes his success in this to the training he's done at the Canadian National Institute for the Blind. In his time spent researching for the role, he has encountered people with compelling stories who have inspired him to treat Auggie's condition with the utmost care and respect possible.

"I did some blindfolded mobility training out on the streets of Toronto... which is terrifying." Gorham said. "I really wanted to do it because of one of the first guys that I met who lost his sight when he was 20 years old in a car accident.

"During his recovery, when he was learning how to get around as a blind person, he gave up for a full year because he was so embarrassed to walk up and down his street with his cane to practice. It took a full year before he finally had the courage to start again. and learn how to be independent. I wanted to see what it's like and I tell you, it's so immediately disorienting. It takes real bravery to overcome that fear and learn to be really good at it."

Part of what makes Auggie's character likable, Gorham believes, is the inner strength that has emerged because he has come through something so extraordinary. Conveying that on the screen didn't happen overnight, though, as the show had plenty of technical issues to work through. For example, figuring out where Gorham should focus his gaze during shots.

"A guy like Auggie in real life would actually be very good at eye contact, because people who have grown up with sight and then lost it, their body just remembers, " he said. "If I do that on the show, it becomes very confusing for the audience so I have to make Auggie not as good as he would be in life. I tell the directors, 'Listen, I won't be offended, but if it looks like I'm looking at whomever, tell me, because then I can adjust it.'"

One of the things Gorham had to learn how to do was pour a cup of coffee as a blind person would, without spilling it and without losing momentum with his lines. Despite the existence of devices that sound a small alarm when the liquid reaches the top of the cup, which Gorham believes could be cumbersome to maintain, he opted to go the old fashioned route and just listen closely.

"I just practiced by hearing, because I figured Auggie's like one of the coolest guys ever so he's not using some like dorky gadget. You set your cup a certain way so you know where the handle is and you you pour it and just listen for it to be at the top. I got it every time, I didn't spill once. Everybody on the crew was very impressed."

With all the different character types Gorham has been fortunate to play over the last several years, including Ugly Betty, Harper's Island and now on Affairs, he said that playing a blind character is the toughest and most rewarding.

"Any kind of interesting, complex character is always going to be challenging, but having something so specific, a physicality like this that's so specific, you have to get it right. I can't just kind of do it my way, you know, and kind of wing it," he said. "I can be creative within that and go in different directions with other things about Auggie, but the physicality of his disability has to be accurate and that takes extra work."

Covert Affairs airs on Tuesday nights at 10 p.m. on the USA Network.

Jeffrey Kirkpatrick is a TV Fanatic Staff Writer. Follow him on Twitter.

Tags: Exclusives, Covert Affairs, Interviews
From Around the Web