TV Fanatic Set Visit: Necessary Roughness Creator on Casting, Callie and Kim Kardashian
by Matt Richenthal at . Comments
Craig Shapiro had to have Callie Thorne.
Like a general manager who sets his sights on the free agent most suitable to his team, Shapiro wrote Necessary Roughness - which debuts June 29 on USA - with the former Rescue Me star in mind.
But there was a problem for Shapiro and his co-creating wife, Liz Kruger: Thorne was signed to another series. Should they wait three months to see if her pilot was picked up? Or move ahead with an alternative actress?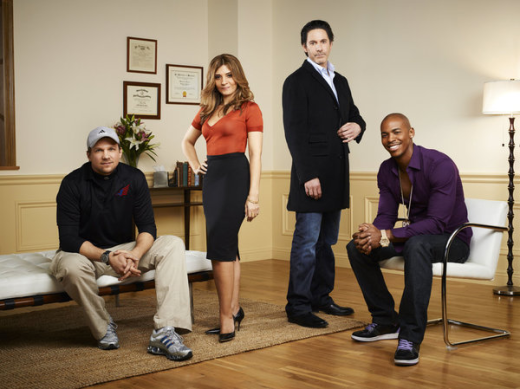 After auditioning over 120 possibilities, Shapiro chose the former option. When Thorne's new show was not picked up, and after she sent the staff a tape from New York, Necessary Roughness had its leading lady.

Why the focus on landing Thorne?

"Her voice on

Rescue Me

and on

The Wire

, she had the right sound for the character and the right attitude," Shapiro said during

my set visit this week

. "Even though she is kind of a tough guy, she's hilarious and that balance will allow us to write some tough stuff and [viewers will] still like her. She's so funny and she's a fierce mom."

The other casting choices - Scott Cohen as a mysterious enforcer named Nico; Marc Blucas as an athletic trainer; and Mehcad Brooks as spoiled wide receiver Terrance King - didn't require the same sort of waiting game.

Shapiro hired Brooks on the spot during a coffee shop meeting, the producer said, because he had such a "deep soul" and quick wit.

Through four episodes of filming, Brooks has made his Terrell Owens-like wideout "human in a way I didn't think he would be," Shapiro said.

So, what can fans expect from the series, which stars Throne as Dani Santino, a recently-separated therapist who takes on various athletes as clients? Storylines that are based on reality, for starters.

Shapiro and Kruger created Necessary Roughness with the help of Dr. Donna Dannenfelser, a fellow producer whose work with the New York Jets serves as the show's inspiration.

"She was one of the most amazing people that I have ever met," Shapiro said of Dannenfelser. "We had a three-hour meeting and when we left there, we were like 'this it is, this is the one. We have to do this story.' She is so compelling as a character and she has so many stories that were just hilarious and moving and we just thought 'oh my god, there's so much story material here.'"

Look for the series to play out like an different kind of procedural. Shapiro often referred to "cases of the week," among them a NASCAR driver, a poker player and, of course, more football stars.

But the crux of the show will be Thorne's Shapiro. She has two kids. She discovers her husband has been cheating on her. She's facing challenges she never saw coming or ever had to deal with before.

"She's discovering this inner strength that she has and therein lies her journey for the first season," Shapiro said. "To understand her own powers and how to use [them] and that, to me, is what the core of the character really is."

One final point: Dani's son is named Ray Jr. They call him "Ray J." I had to inquire, is Shapiro aware that there's another Ray J, the guy who filmed himself having sex with Kim Kardashian?

"I barely know who Kim Kardashian is, let alone who her sex partners are," Shapiro said.

Just another reason to like Necessary Roughness.

Matt Richenthal is the Editor in Chief of TV Fanatic. Follow him on Twitter and on Google+.

Tags: Exclusives, Interviews, Necessary Roughness