Blue Bloods Season 2 Scoop: New Boss, New Mayor and More
by TV Fanatic Staff at .
Following a successful opening season, a lot will be changing in 2011-2012 for Blue Bloods. For starters, Ed Zuckerman (JAG, Law & Order) has taken over as showrunner.
But in an extensive interview with TV Guide, the veteran producer assures fans the core of the drama - the Reagans and how they balance family, relationships and jobs within the police department - will remain the same.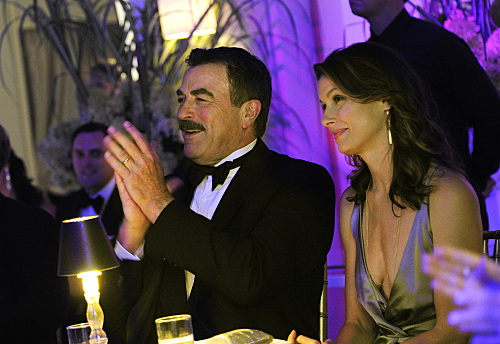 Frank cheers on a couple of special guest stars in this season two premiere pic: Tony Bennett and Carrie Underwood.

What, specifically, can viewers look forward to? Zuckerman dropped a number of hints:

Two new romances for family members.

More of a role for Henry. Says Zuckerman: "He's not just at home cooking dinner. He's still very much alive and vital. And in real life former commissioners do many things."

Will there be one season-long arc? Yes. "We are launching something at the very end of the first episode, and it we're going to develop it slowly over the course of the season. It involves a story for Jamie and an organized crime figure."

Centuries colliding? Zuckerman describes David Ramsey's new mayor as coming from "a community-organizing background, which is the antithesis of Frank Reagan's background as an old law-and-order guy." This could create tension: "The Reagan family is a classic 20th century New York police family, and this mayor is a very 21st century character. He is a politician, and Frank Reagan always has a little bit of trouble with politics. The mayor represents a changing city..."

Might Jamie hook up with his new partner? "She's married and the Reagans are not adulterers. But she's not happy in her marriage, so I think it's going to be a very interesting dynamic."

Blue Bloods returns with new episodes on September 23.

Tags: Blue Bloods, Interviews, Spoilers
From Around the Web