Ricki Lake and J.R. Martinez have been trading co-frontrunner status all season long on Dancing With the Stars, and that pattern continued last night, with the former storming back into the top spot.
But might a dark horse ride in and steal the Mirror Ball out from both of them?
The ninth week of Dancing With the Stars' 13th season saw Ricki achieve perfection in one dance and a 29 in another, racking up a strong total of 67 points (out of 70) for the evening as a whole.
The surprising thing? Rob Kardashian, not J.R. was the one right on her heels.
Who would have guessed at the onset of the season that Kim's little brother would be a serious contender. With 65 points on the night, he's so far ahead of fourth place that he seems like a lock.
It's J.R. who will need a little help from voters to make sure he advances. After two weeks at the top, he was a clear third Monday. Still, he has the track record and fan support to bolster his effort.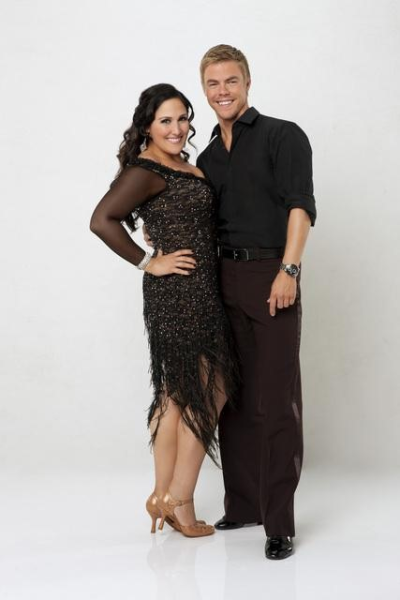 Can anybody stop Ricki's run for the Mirror Ball?
It really looks like this is the end of the line for Hope Solo, as impressive as it is that she's made it this far. How can it not be, compared to the other dancers in the field? If she survives, it'll be a shock.
There's nothing anyone can do about the standings now, other than rally support from voters. The scores for the second to last night of Dancing With the Stars performances (solo, solo, cha-cha relay):
Ricki Lake & Derek Hough (30, 29, 8) 67
Rob Kardashian & Cheryl Burke (28, 27, 10) 65
J.R. Martinez & Karina Smirnoff (23, 27, 6) 56
Hope Solo & Maks Chmerkovksiy (21, 24, 4) 49
Who was your favorite on Monday? Do you think anyone was scored unfairly by the judges? Who's your pick to make it to the finals, and is there any way Hope and Maks won't be eliminated Tuesday?

Follow the link for much more coverage of Dancing With the Stars!

Steve Marsi is the Managing Editor of TV Fanatic. Follow him on Google+ or email him here.

Tags: Dancing With the Stars