Jennifer Hall Interview: On Assisting Ava, Milking Cows
by Matt Richenthal at .
Jennifer Hall stars on Up All Night as Missy, the woman stuck with the thankless, albeit hilarious, job of assisting Maya Rudolph's Ava.
In the following exclusive interview, the actress talks about co-starring with such fine talent on this hit NBC sitcom, along with how working for her fictional talk show host compares to one harrowing real life job on a farm...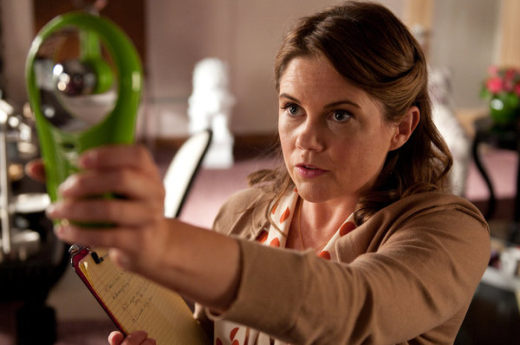 Talk about Will Arnett and Christina Applegate. Are they anything like their characters in real life?
In real life, Will and Christina are as extraordinarily attractive as they are on TV. They both also have ridiculously good memories and can memorize things super fast. I don't know how that helps them with their real life parenting, but I'm sure it's very useful as actors.

Can you relate, from prior work experience, to anything Missy goes through with Ava?
Ever since I have been an actor, I've been fortunate enough to not need another job, but while I was in college I answered an ad in the newspaper for a cow milker/herder at a dairy farm. I'm from Alabama and can herd geese so I had figured I was qualified. I showed up at 5 a.m. in pigtails and cut-off shorts to a farm in a remote area of New York. When the dairy farmers saw me they chuckled and handed me a rubber suit. The rest of the story gets very messy. I'm sure this is pretty much the same experience Missy had on her first day on the job.

What is Maya Rudolph like as a scene partner?
Maya is so great to work with and when we are in scenes with Christina and Will the three of them are incredibly funny together. I just sit back and watch. I feel like the nerd who was invited to the cool table.

Missy has slowly become more empowered with each episode, as her boss's bravado has seemingly rubbed off on her. What can we expect in the upcoming weeks from her?
I think Missy is going to surprise everyone (including Ava and Reagan) in the next couple episodes.

What would you say to people who might shy away from the sitcom because they think they can't relate unless they have kids?
I think Up All Night explores the universal fear that everyone, and I mean EVERYONE, has to eventually grow up. Some later than others, in the case of Ava. For myself, as someone who doesn't have children, I would watch the show just to see the comedic dream team of Applegate, Rudolph and Arnett, (as well as that hot little number who plays Missy). It really goes beyond the baby.

Are you still playing with your band?
Music will always be a passion of mine and I am constantly writing new songs. For now, I am focused on the show and my jewelry line, Jenny and Jimbob, which consists of quirky charm necklaces (toilets, light switches, cheese graters etc.) and is carried in over 500 stores worldwide. I wear Jenny and Jimbob necklaces on the show and we do a fun contest turning "Wednesdays into Wins-days." Each week, the first five viewers who correctly match the charm necklace I'm wearing with the saying on our website via Twitter win that necklace.

Matt Richenthal is the Editor in Chief of TV Fanatic. Follow him on Twitter and on Google+.

Tags: Exclusives, Interviews, Up All Night
From Around the Web