Katie Finneran Tells Us Why She Hates Her Teenage Daughter
by Matt Richenthal at .
Katie Finneran does not really hate her teenage daughter. She does not even have a teenage daughter, only a 10-month old son who the actress says is "super adorable, but I can tell he's already bored with me."
Still, despite this lack of current life experience, the former Tony Award winner teams with Jaime Pressly on the new Fox sitcom I Hate My Teenage Daughter, which premieres tonight after The X Factor.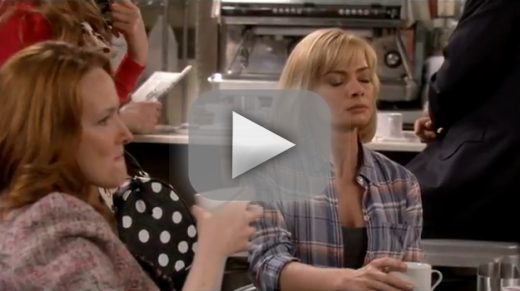 The actress plays Nikki, someone who was a "social pariah" growing up, as Finneran explained to me over the phone.

"She had bad skin, she weighed over 300 pounds, she just didn't fit in," Finneran said. "So now she wants to reinvent herself, to give her daughter everything she didn't have. She wants the two of them to be best friends, basically."

You don't need to have a teenage daughter yourself to imagine how that goes, as teased in the promo above.

Finneran says her Nikki and Pressly's Annie are both divorced and essentially act as co-parents to their children on the sitcom. The latter was raised in a strict, "bible-thumping household where pop culture was on lockdown."

As such, Nikki will be in charge of keeping Annie's abreast of... pretty much everything their daughters are into.

"Every episode has a theme," the actress said. "There's teenage family game night. Teenage dating. Teenage family skit trip. It's all instigated by the girls wanting to do something and our reactions to them."

Don't worry, though, viewers, "you won't really learn anything," Finneran joked. But "hopefully you'll be entertained."

I Hate My Teenage Daughter debuts tonight on Fox.

Matt Richenthal is the Editor in Chief of TV Fanatic. Follow him on Twitter and on Google+.

Tags: Exclusives, Interviews
From Around the Web