Magic comes with consequences, especially if you don't read the fine print. "The Price of Gold" drove home the saying that no good deal goes unpunished, not in Storybrooke anyway.
What was up with Rumpelstiltskin and his penchant for babies? The guy's creepy enough; now add that particular fetish into the mix and it borders on macabre. The skin, the eyes, the unwashed hair? Who wouldn't cross the street if they saw this guy coming, but I suppose desperation makes people do stupid things. Cinderella was clearly desperate, especially after he killed her fairy godmother. Not that was just unfair.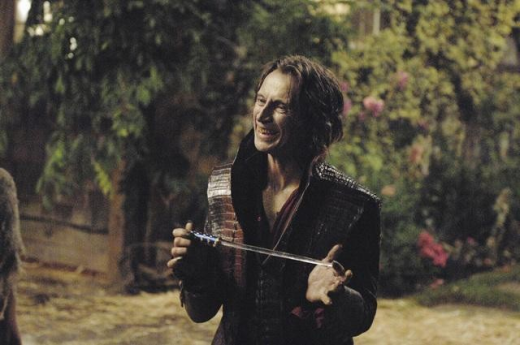 So was Mr. Gold some sort of strange underground baby broker? He somehow procured Henry for Regina. What was his plan for Ashley's child?

Ashley/Cinderella wasn't the brightest girl, but at least she was spunky. With the help of Ruby (and can those shorts get any tighter? Oh, nevermind.) she decided to try and outrun Mr. Gold. But, as Henry pointed out, no one leaves Storybrooke without dire consequences.

I kept comparing Cinderella's prince to Prince Charming and it made the new prince hard to like. He seemed okay in the fairy tale world but in Storybrooke he was just some kid who let his father push him around. I know the magic was meant to be the cause, but viewing the prince as a deadbeat dad made it difficult to feel for him no matter what the circumstances.

We really didn't get to see much of Regina in this episode, although I enjoyed what little we did witness. Who else could tell you to enjoy your cocoa and make it sound menacing? It was nice of her to tell Henry exactly how long he had to run around town before she got back from her little rendezvous. Also, Henry losing his shoe on the staircase was a really nice touch.

I couldn't say that Regina's affair with the Sheriff was a surprise. I've suspected it since the first episode. It always seemed like he was around a little too much for it to be strictly professional. But this didn't appear to be a love affair... so was it just sex or does Regina hold something over him? And what will Regina's reaction be when she finds out her boy toy just hired her arch enemy? Yeah, that could get messy.

In the end, I was surprised that Emma fell into Mr. Gold's clutches so easily. Then again, she doesn't believe in the curse or Storybrooke's alternate fairy tale universe so there's no reason for her to think that owing this man a favor could have unforeseen consequences.

I wish there had been fine print like there was for Cinderella. Emma would have been smart enough to read it.

C. Orlando is a TV Fanatic Staff Writer. Follow her on Twitter.

Tags: Once Upon a Time, Reviews
Want more Once Upon a Time?
Sign up for our daily newsletter and receive the latest tv news delivered to your inbox for free!
More From TV Fanatic
Scott decides to get tough on Teen Wolf after rescuing his Beta by declaring he won't sit back and watch more deaths. Find out what else went down in the review!
Heather and Tamra consider making peace with Shannon on The Real Housewives of Orange County. See what went down in our TV Fanatic review!
On Murder in the First, the trial of Erich Blunt reaches its conclusion. But what is the verdict? Find out when you read the review.
Andi Dorfman chooses between Nick Viall and Josh Murray. Find out who she chose now on our The Bachelorette review!
---