The Walking Dead isn't exactly a show known for its upbeat, sunny disposition.
But, following events from Sunday's midseason finale, Norman Reedus says life in this zombie-filled universe is about to get very dark. Isn't it already pretty dark, I asked over the phone.
"It's about to get even darker," the actor said. "For everybody."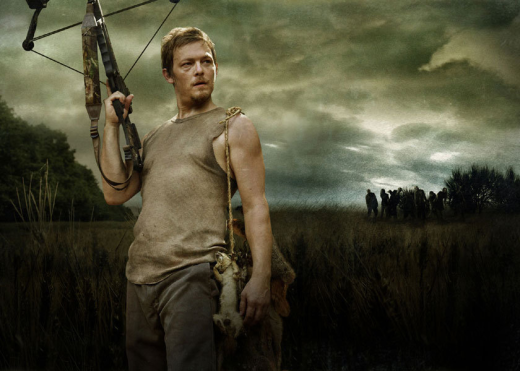 "Sophia represented this other way of life to Daryl," Reedus explained, referring to the 12-year old who was revealed to be a walker in the final few moments of the 2011 finale. "She was his hope for a new new beginning. If he could find this little girl, he could put a lot behind him... with that gone, let's just say Daryl is gonna be really pissed."

Does her death signal the end of farm life for this cast of survivors?

"I think it's kaput, yes," Reedus said.

While The Walking Dead has enjoyed massive ratings, some have criticized the drama for moving too slowly throughout its opening set of season two episodes. Reedus isn't among them, but he does admit that he prefers action to conversation.

"I'm always moving on set," Reedus says. "I don't like to play this character with my two feet in the same spot for very long. I don't think Daryl is someone who wants to just sit and talk very much. He wants to get out there and do something."

Fortunately for Reedus and for millions of viewers, there will be plenty of opportunities for just that when season two resumes in February.

"The second half is just crazy," says the actor. "People are done talking. When we come back, trust me, there's nothing but fireworks."

Matt Richenthal is the Editor in Chief of TV Fanatic. Follow him on Twitter and on Google+.

Tags: Exclusives, The Walking Dead, Interviews, Norman Reedus