It was once again time to face the music, as The X Factor Top 11 hit the stage for Movie Night!
I hope you had your popcorn ready because L.A. Reid continued his stint as the worst new reality judge on television and Steve Jones remained steadfast in cutting off the panelists as many times as he could in a two hour span.
Oh yeah! The 11 acts also performed their hearts out for America's vote!  Let's take a look at the performances...
Stacy Francis "The Queen of the Night" - No Nicole, Stacy having a big diva moment is not her stepping out her element.  The upbeat nature of this song, however, was out of her element, and it proved to be detrimental as she seemed to be out of breath throughout the performance.
My Score: 4/10
Obscure Movie Score: The Bodyguard is way too popular to register in this ranking system. 2/10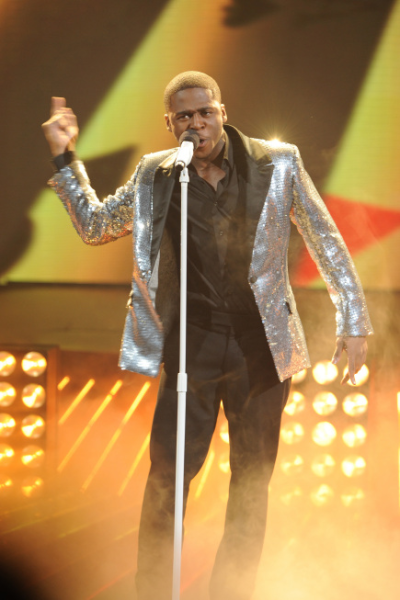 Marcus Canty "I'm Going Down" - He almost dropped the mic, he could barely get his jacket off when he wanted to, but he still pulled off the performance. His vocals are good, and they are a lot like what you hear on today's Top 40 chart. He might need to learn how to calm down though, as this song was completely stripped down, but his performance was still a bit out of control.
My Score: 7/10
Obscure Movie Score: I've never heard of Car Wash, but it was made nine years before I was born so I'll stay safe and go 5/10.
Drew "Fix You" - Her tone is just so great in the way that it almost cracks on every note. To argue with L.A. - like I do on my couch every Wednesday - you can do something similar every week if it is continually great. If it is boring or annoying things would be easier to criticize, but Drew is fantastic.
My Score: 8/10
Obscure Movie Score: You, Me, and Dupree gets a 9/10 because not only is it a ridiculous movie choice for this type of show, but it's one of my favorite comedies of the past five years.
Leroy Bell "Still Haven't Found What I'm Looking For" - This was definitely his best yet, but the problem is that I don't see him ever doing better than this. All of the pieces were in place for him to knock it out of the park with this song, and it just didn't happen. He's a good singer. He just doesn't have anything to separate him from any schmo on the street.
My Score: 6/10
Obscure Movie Score: Runaway Bride gets a big stinking 3/10.  It stars Julia Roberts for crying out loud.
Lakoda Rayne "Somebody Like You" - As a Nashville resident, and just having finished watching the CMA Awards, I found it difficult not to love this performance. I do think there is a place for this four girl group in today's country music. They seem to gel so well together, both on and off the stage, and that definitely helps their cause.
My Score: 7/10
Obscure Movie Score: Although it is probably my favorite romantic comedy of all time, How to Lose a Guy In Ten Days is way too well known to score high here... 3/10.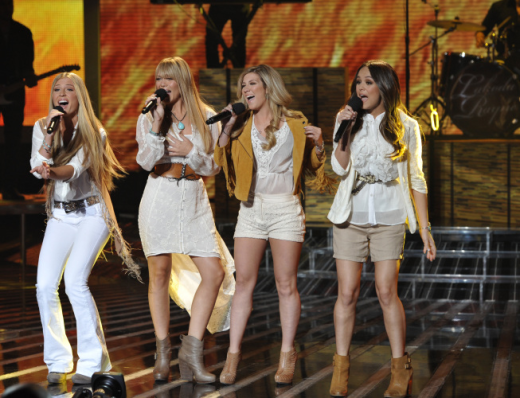 Astro "Lose Yourself" - His rapping ability continues to improve - and it was good to start the competition - but his lack of stage presence continues to be his downfall.  Astro did a good job of making the song his own, in using his own words, but it was just weird hearing such a famously hard anthem chirped out by a little boy.
My Score: 6/10
Obscure Movie Score: Pretty transcendent flick - and apparently Oscar winning - 8 Mile gets a 2/10.

Melanie Amaro "Man In the Mirror" - She has the tone, she has the power, and this week she added the growl to her repertoire. And on top of all that, she didn't tell America that if they sent her home it was because they couldn't look at themselves in the mirror. She's way ahead of American Idol's Jacob Lusk in that regard.
My Score: 8/10
Obscure Movie Score: I give her a 0/10 because This Is It is a compilation of footage, not a real movie.

The Stereo Hogzz "Ain't No Other Man" - I will be surprised if they don't leave the show tomorrow night. They're good performers, but I have seen no signs of quality vocal ability.  I mean the four guys not singing lead are doing very little at this point. The paid background singers on stage did much more than them tonight. This wasn't as bad as last week, but it was still way too over produced.
My Score: 4/10
Obscure Movie Score: Another surprising movie choice, but Get Smart is not one of my favorites, so I'll go 7/10.

Josh Krajcik "With a Little Help From My Friends" - I never thought I'd say this, but there was actually too much rasp in this performance.  Parts of it seemed like he was just screaming nonsense up there on stage.  He needs to enunciate better, and control his performance a bit more, but he is still a good singer.
My Score: 7/10
Obscure Movie Score: Across the Universe was pretty popular, and focused on the music of the Beatles so a 4/10 sounds right.

Chris Rene "Gangsta's Paradise" - I really like Chris Rene, and I want him to do well every week, but I disagreed with the judges on this one. I liked him a lot better last week, as this seemed a bit clunky. He has a much better stage presence than Astro, but his rapping skills aren't as good.
My Score: 5/10
Obscure Movie Score: Nothing to see here as Dangerous Minds gets a 5/10.

Rachel Crow "I Would Rather Go Blind" - Simon kept teasing this performance as a big surprise, but it was exactly the type of performance she gave us in the early going before the mentors got a hold of her. This is what we fell in love with, and it was about time Simon let her pick her own song. She is so powerful and mature in her singing... and she is only 13!  BEST OF THE NIGHT!
My Score: 9/10
Obscure Movie Score: I had barely heard of Cadillac Records so it gets a 7/10.

So other than Drew ridiculously stating that Jack and Jill was the funniest movie she had ever seen,Movie Night on The X Factor was a success. Be sure to let us know who you think was the best of the night, as well as who you think is heading home tomorrow night.

Dan Forcella is a TV Fanatic Staff Writer. Follow him on Twitter.

Tags: The X Factor, Reviews