Just in case anyone was wondering, everyone faced the music yet again on The X Factor this week. The Final Five performed two songs, one dance hit and another chosen by the contestants.
How contrived was it the "they have one day to practice this song" bit, though? After the Pepsi songs didn't come through, they were given 24 hours to prepare another track? If it's their "Save Me" song, everyone but Marcus Canty should have it in the holster ready to go. 
Although the Chevy commercials in between the live performances were much, much better, let's still take a look at how the contestants did...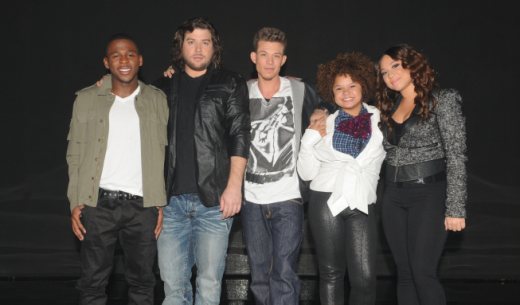 Melanie Amaro "Someone Like You" - Why would you waste such an epic song like this by turning into a dance beat for this week's theme? She was good, but it could have been a lot better.
My Score: 7/10
Marcus Canty "Ain't Nobody" - This took me back to the 80s and that's not a good thing. He did the song justice, but it did not feel organic whatsoever. Simon said that Melanie's wasn't karaoke. But his was.
My Score: 6/10
Rachel Crow "Nothin' on You" - Rachel chose her own song, and once again she chose correctly. This was a perfect upbeat performance, and her charm really puts her over the top. Other than L.A.'s slightly homophobic comment, it was all smiles.
My Score: 7/10
Josh Krajcik "We Found Love" - This really wasn't in Josh's wheelhouse, but he pulled it off the best he could. He gave the record new life, and I enjoyed it.
My Score: 6/10
Chris Rene "Live Your Life" - The dude just does it for me. Even though he was a bit overpowered by the backing track and singers during the hook, he absolutely murdered the verses, which was enough for me.
My Score: 8/10
Round One goes to Chris Rene.
Melanie Amaro "When You Believe" - She can take on any of the big divas whenever she wants. She never misses a note and has the power to back up her decisions. This was one of if not her best performance of the season.
My Score: 10/10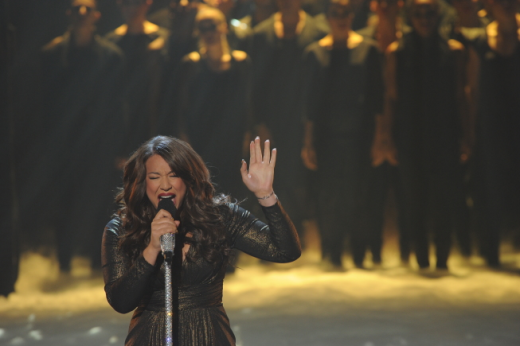 Marcus Canty "A Song For You" - His range is fantastic, which was showcased here, but this performance was a bit boring. Paula was right in that he's a great story teller, but so was Simon in that no one should be jumping out of their chair.
My Score: 7/10

Rachel Crow "Music & Me" - Her lower register sounded downright awful through the first half of the song, which threw me through a bit of a loop. Luckily she lost the low parts midway through and killed the ending of it.
My Score: 8/10

Josh Krajcik "Something" - His faces in this performance were worth the price of admission. As far as the vocal, unlike what L.A. said, this was anything but karaoke. It sounded nothing like the original, and it was incredibly powerful.
My Score: 9/10

Chris Rene "Where Do We Go From Here?" - It was great to see the original song, and he sounded fantastic, but am I the only one who realized he only had about three different lines in a two minute song? There were way too many "yeah yeahs" and repeated phrases to call that a stroke of genius.
My Score: 8/10

Round Two goes to Melanie Amaro.

We are down to the nitty-gritty, as one more will go home tomorrow before next week's semifinals. I've seen too many of these shows to think that Marcus isn't the leading candidate to go home tomorrow after being in the bottom on a number of occasions already. I think either Josh or Rachel will join him there.

What do you all think, TV Fanatics? Who was the best of the night? And who will leave the stage tomorrow?  

Dan Forcella is a TV Fanatic Staff Writer. Follow him on Twitter.

Tags: The X Factor, Reviews