It's Breaking Bad vs. The Vampire Diaries vs. Game of Thrones vs. Revenge vs. many other shows in our latest edition of the TV Fanatic Staff Round Table.
With 2012 drawing to a close, your favorite TVF critics are gathering to debate various topic from the year that was. First, it was the Best New Show of 2011. Now, we're asking our writers, and then our readers, to answer this question:
WHO WAS THE BREAKOUT STAR OF 2011?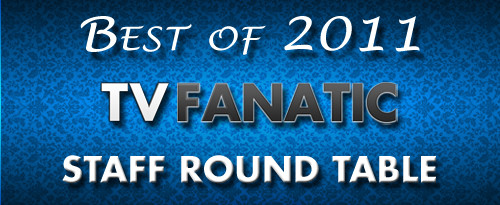 Matt Richenthal: Giancarlo Esposito. I had never heard of this actor before he first appeared on Breaking Bad as businessman/drug lord Gustavo Fring. And after watching his chilling work on season four, I'll never forget him.

Steve Marsi: Joseph Morgan. A relative unknown before being cast as The Vampire Diaries' Klaus, he was given the arduous task of playing a character billed as the most evil, powerful bloodsucker in the history of time. Not only did he live up to the hype, Morgan doesn't oversell Klaus; His portrayal is perfectly nuanced, chillingly sociopathic yet surprisingly vulnerable.

Arlene Gonzalez: As far as I'm concerned it's a tie between Evan Peters (Tate on American Horror Story) and Gabriel Mann (Nolan on Revenge). Evan brings the creep-factor/heaven-with-a-smile/Kurt Cobain-vibe to new heights and Mann plays Nolan with such a tongue-in-cheek, dastardly snark that I can't wait for him to show up on screen. He's been making the rounds for awhile but his time has finally come. Plus they're both easy on the eyes. Definite plus.

Jim Garner: I know Eric is expecting me to say Kat Dennings but, I'm going with Jere Burns on Burn Notice as Anson. I have never loved and hated a bad guy at the same time the way I do Anson.

Eric Hochberger: Kat Dennings. Granted, she starred alongside Michael Cera in Nick and Norah, but really this is Dennings' small screen debut and, clearly based on her show's ratings, is reaching more of an audience than her films ever could. She and her co-star, fellow relative newcomer Beth Behrs, despite an array of mediocre supporting caricatures and a weak script loaded with low brow racist jokes, make me tune in and laugh every week. Now that's breaking out.

Dan Forcella: Adam Pally. There are a lot of good choices, but I have to go with Pally of Happy Endings. Previously credited as Young Hollywood Douchebag on Californication, and Douchey Guy on NTSF:SD:SUV, it's safe to say that Pally has broken into the scene with his hilarious character of Max Blum on ABC's quickly exploding comedy. Endings has been one of my favorites of the fall season and Pally's continual hijinx is the primary reason for that.

Carla Day: Game of Thrones was the best thing to happen to television this year and that was in a large part due to Kit Harington and Maisie Williams. In a world of ugliness, Kit brought a freshness, honesty and innocence to Jon Snow. Maisie was brilliant as Arya Stark and brought depth to the role that was surprising given her young age. The scenes with Jon Snow and Arya at the beginning of the series drew me in right away. And the execution scene would have been difficult for an actor of any age, but Arya was portrayed exceptionally.

Carissa Pavlica: I'm going with Peter Dinklage. While he has been in a myriad of movies and even appeared on Nip/Tuck, the way he stood out so tall above his fellow actors in Game of Thrones cannot be denied. Every line he utters has some sort of magic to it, whether it be the deepest thought or the most trite drivel. His appearance in an episode means there is enjoyment on the horizon.

Leigh Raines: This is probably really out of left field, but I'm gonna go with Deborah Ann Woll. True Blood ended this fall and it wasn't her first season, but she really came into her own this year. The international promos solely feature her, that's how much of a sensation she's become. Pam had us with her one-liners, but Jess has definitely been stealing the spotlight as she comes to terms with her Vampire life. All hail the sexy redhead!

Your turn: Who was the breakout TV star of 2011?

Matt Richenthal is the Editor in Chief of TV Fanatic. Follow him on Twitter and on Google+.

Tags: Round Tables, Best of 2011, Polls