2 Broke Girls Creator Clashes with Reporters Over Sitcom Tone, Humor
by Matt Richenthal at .
2 Broke Girls is one of the most popular new shows on television, averaging over 13 million viewers per week.
But most of those in the Television Critics Association aren't among the CBS sitcom's supporters, as a handful of reporters clashed this afternoon with creator Michael Patrick King during the show's panel awkward, tense session.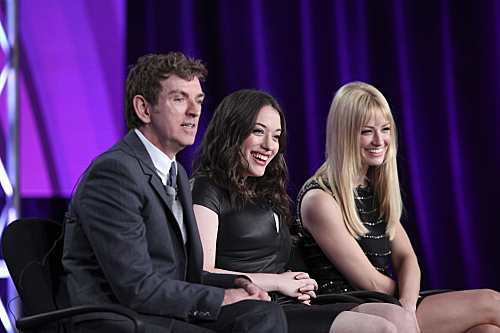 The main points of contention centered on the reliance of low brow humor, often stemming from stereotypical jokes aimed at (or by) Oleg and Han.

King insisted the series aims to "take everybody down," adding that the ethnic characterizations are "broad and brash and very current" and giving the odd defense that "every character when its born is a stereotype."

At one point he got into it with Tim Molloy from The Wrap and, I guess, tried to prove how his show's preferred style of jokes can work in any setting, implying that Molloy's Irish heritage is the source of sexual problems.

"The show is sophisticated and naughty and I think everyone likes a good naughty joke," King said. "I feel no need to pull away from the brand of 2 Broke Girls, which is basically ballsy, in your face and hopefully funny."

Do you agree? Do you think the jokes on 2 Broke Girls are overly low brow?

Matt Richenthal is the Editor in Chief of TV Fanatic. Follow him on Twitter and on Google+.

Tags: Polls, 2 Broke Girls
From Around the Web