Christopher Heyerdahl Previews Choices, Consequences to Come on Hell on Wheels
by Sean McKenna at . Comments
Grab your ticket and buckle up for the final two episodes of Hell On Wheels, folks. This revitalized western drama has built a set of strong characters striving to find purpose and meaning out in the harsh world that is constructing the transcontinental railroad.
I spoke with star Christopher Heyerdahl over the phone this week about his fascinating character, The Swede, and what he calls a "fantastic creation."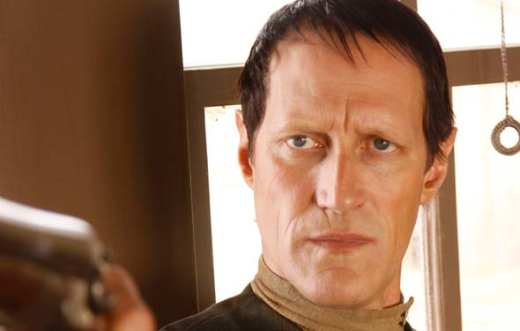 Heyerdahl was attracted to playing the character because of his deep complexities.

"He's a well drawn, extremely conflicted, three dimensional human being," said the actor. "One of the greatest things in any person, given the opportunity of extreme circumstances, and that's of course the goal of any of these shows to put characters in extreme circumstances, is to watch them contradict themselves and to come up with actions that might seem to betray their characters but at the same time show us that there is more going on than we thought. And that's always to me so exciting when you see a character being contradictory."

And while many might view the Swede as a villain, he's clearly not so black and white. Heyerdahl enjoys the variety of fan reactions to his character, saying:

"Either they hate him, period. They hate him but they love him. They find him creepy and it gives them the shivers but they're attracted to him. So, there's all these very many splendid ways of reacting to a character that just in the same way I'm attracted to this guy as much as anybody else is."

What of The Swede's obsession with Bohannon?

"I think it comes down to that very first encounter. I think the conversation that he has with him in that pig car when he's all chained up and about to hang him, he's having a conversation with a dead man. And he gives him an opportunity to make right with his maker and shares with him secrets. I think that once that exchange has gone on there's no going back."

The actor recognizes that vulnerability and need to survive, especially because he's lost his sense of authority:

"That's one of the great things about that situation is that here you have the all mighty has fallen, and how far has he fallen. Has he fallen all the way? Now he's going to have to continue his journey of taking things into his own hands because he can't seem to rely on any support from Durant anymore. That's been made pretty clear. We're gonna see the Swede succeed or fail or die trying."

Which means that The Swede will be taking action and, yes, he will be visiting the pleasure tent: "He can stir it up in there. We might even see that in the next episode I think."

Of course, all that grime, mud, and muck on the show is exactly as it appears. So much so that they had to bring in gravel to help the crew move around set easily, said Heyerdahl: "I think we brought in, I don't know how many tons of gravel just so that the grips and electrics could move stuff around. Move things from A to B. Mud was there 100%."

As for the final two episodes, Heyerdahl says its all about choices.

"The choice that a path a man or woman takes. You'll be left with a lot of repercussions of those choices."

Sean McKenna is a TV Fanatic Staff Writer. Follow him on Twitter.

Tags: Exclusives, Interviews, Hell on Wheels
Want more Exclusives?
Sign up for our daily newsletter and receive the latest tv news delivered to your inbox for free!
More From TV Fanatic
Grant Gustin will star this fall as The Flash. We chatted with the actor about what fans can expect on Season 1.
What can fans look forward to on Teen Wolf tonight? Check out this EXCLUSIVE sneak peek.
Jared Padelecki sat down with TV Fanatic this week to tease Supernatural Season 10. What's on tap? Fnd out now!
What can fans expect from Arrow Season 3? Colton Haynes is here with an exclusive preview.
---