Erica Dasher Previews Jane By Design
by Carla Day at .
Are you ready for the premiere of Jane By Design, a fun, new quirky drama from ABC Family?
Prior to tonight's series premiere, Erica Dasher - who plays the lead character of Jane - called in for an interview and provided a sneak peek of the season.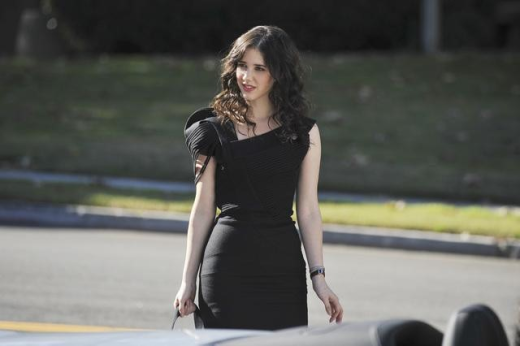 The backdrop for the series: Jane loves fashion and convinces her school adviser to allow her to apply for an internship at a fashion house. Due to a mix-up, she is mistakenly hired as the assistant for major executive, Gray (Andie McDowell), instead.

"I live in two different worlds and play two different ages, essentially," Dasher said of the set up.

Jane's dual existence is made possible with the help of her best friend, Billy (Nicholas Roux), while it's also threatened by her brother and guardian, Ben (David Rogers).

The competing lives of a high school student and an adult don't end there, but also in the "boy" department between Jane's school crush, the jock, Nick (Matthew Atkinson) and the workplace senior designer, Jeremy (Rowly Dennis). And, don't forget, there's also her long-time friend, Billy, as a potential love interest!

There are plenty of attractive men to look at on Jane By Design. When asked what the biggest draw should be for people to watch the show, Erica agreed, saying simply: "The super cute guys."

She was drawn to the show by Jane.

"I fell in love with Jane immediately," the actress said, describing her as "a really bold character. She's funny and passionate and clumsy and not popular and creative and girly. I could go on and on about her. She's a really great character."

True to the fashion world, the show will be traveling to different locations such as Beverly Hills, Paris and New York, while also including a few special guests. Dasher spilled that Betsy Johnson will make a cameo in an episode.

If you love fashion, hot men, love quadrangles, complicated secret lives, or any combination, make sure to tune in to Jane By Design, premiering tonight on ABC Family, following the mid-season premiere of Switched at Birth.

Return to TV Fanatic immediately following the premiere for my review and to discuss the show!

Carla Day is a staff writer for TV Fanatic. Follow her on Twitter and on Google+.

Tags: Exclusives, Interviews, Jane By Design
From Around the Web