Brian d'Arcy James knows a thing or two dozen about Broadway musicals.
The star was nominated for the 2009 Tony Award for Best Performance for a Leading Actor in a Musical for Shrek - The Musical and has also appeared on shows such as Time Stands Still, Next to Normal and Dirty Rotten Scoundrels.
So how does Smash compare? Does the upcoming NBC series - on which d'Arcy James portrays Frank Houston, the husband of Debra Messing's Julia - accurately portray the world in which Brian has been immersed for so long?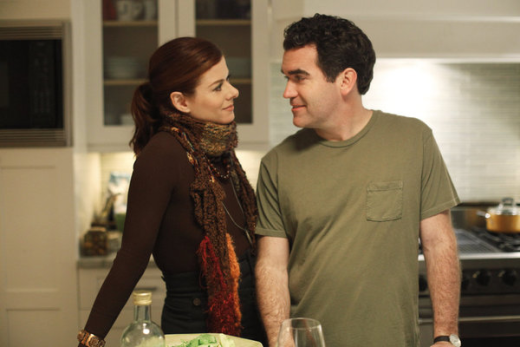 "It depicts it very accurately," d'Arcy James told me over the phone. "Especially how things are developed. The first year season really focuses on the workshop aspect, where the producers can tweak this or that and where the show gets ready for an off-Broadway tryout.

"In this case, we end the season with a performance in Boston."

The actor specifically cites a scene in which the director (Tom, played by Christian Borle) wants to sit backstage during a rehearsal and must clear it with the stage manager ahead of time.

"There's a choreographed dance that goes on backstage at any musical," d'Arcy James said. "They utilize every ounce of space and it can be dangerous just to walk back there. I appreciated this one, fleeting moment and how it remained true to how a production really works."

But there's one aspect of being on network television that cannot compare with Broadway: the scope of the marketing. This especially holds true for Smash, which NBC is pushing as hard as any series in recent memory (via billboards, commercials, free downloads).

"It's exciting to see what the reach of a network television show can do," he said. "We're all aware of it and all grateful for the effort NBC is making."

As for the actual character d'Arcy James takes on, Frank is a chemistry teacher who has been a stay-at-home father for 15 years. He and Julia are planning to both pull back from work and adopt... until a script for Marilyn crosses the latter's lap.

"Julia is lured back to work with this magnetic opportunity and it really flies in the face of our plan," the actor explains. "There becomes a question of how they're gonna balance it all and Frank starts to reconsider his professional ambitions."

d'Arcy James says the couple's struggle mirrors an overall theme on Smash, that of dreams and how we fulfill ourselves personally and professionally.

Finally, yes, rest assured, the Tony Award nominee will sing.

"I was proud to land the role based on the merits of my acting," he said. "It's nice to get a job where I don't need to sing at the audition... but after watching a few of the performances at the outset, I quickly became very, very jealous."

Smash premieres on February 6 on NBC. It's fantastic.

Matt Richenthal is the Editor in Chief of TV Fanatic. Follow him on Twitter and on Google+.

Tags: Smash, Interviews, Exclusives