Yes, it's true: your favorite hot mess of a family is back in just over 24 hours, as Shameless kicks off season two tomorrow night.
Earlier this week, I had the pleasure of speaking with the lovely Emmy Rossum about the upcoming season, her role as Team Gallagher's mother hen, and of course, those nude scenes.
First things first, what is different about season 2? Previews have clued us in that it's summertime on the Southside. What else is going on?
"We see the Gallaghers doing much better financially," Rossum said. "Summer is when they bank most of their money for the winter so it's interesting to see them like this."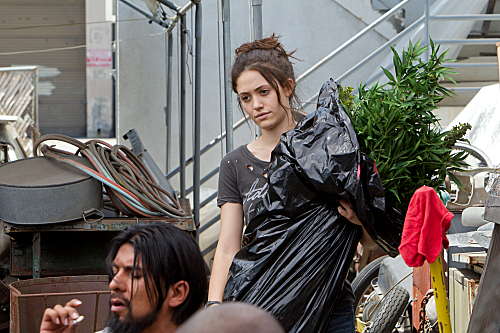 The Gallaghers with money? This I'll have to see with my own eyes to believe! Besides the improved hustle, I had to ask what was in store for Frank, played by a brilliant William H. Macy. When we last left off, Frank slept with his girlfriend's teenage daughter and her father subsequently committed suicide due to the humiliation.

According to Rossum, even though it's been a few months and that frozen lake has thawed, "no one has noticed what happened to Eddie." As for Frank's girlfriend Sheila (Joan Cusack)?

"She is getting out of the house a lot more. As Sheila makes these steps out into the real world and conquering her agoraphobia, Frank's position in the lap of luxury is in trouble. He's trying to do everything he can to impede her recovery."

Sounds like Frank to me. I think a big fear of all of the Gallagher children is the possibility that they could end up like Frank in any way. Rossum confirmed this thought when touching on what's going on with Fiona's lovelife.

Left by Steve, "Fiona is nursing her broken heart. She's gotten over the depression of it and now she's in the crazy rebound stage. She's a bit of a maneater. That's her acting out, she really got her heart broken last year. Specifically in the third episode, Fiona struggles with the possibility of crossing a line. She has Gallagher blood in her at the end of the day so she has tendencies to turn into her father."

Yikes! Well, at least we'll get to see Fiona in what's destined to be an entertaining crazy rebound stage. When asked about the nude scenes that have drawn a lot of attention to the show, Rossum stressed that "my number one priority is focusing on the material, to make sure the scenes really land and the character dynamic works. Fiona isn't the kind of girl who sits around on the elliptical or stairmaster."

For those curious about recurring characters, Steve will be back in some capacity, as he and Fiona are still in touch. Louise Fletcher (Grandma Gallagher) will be back, as will Chloe Webb, Frank's ex wife.

What are you all waiting for? Go cue up your DVR and get ready for Team Gallagher Sunday January 8 on Showtime.

Leigh Raines is a TV Fanatic Staff Writer. Follow her on Twitter.

Tags: Exclusives, Shameless, Interviews