Maybe it's because we haven't had time to get annoyed by the coaches, or maybe it's simply that Adam, Blake, Cee Lo and Christina seem to be having such a genuinely fun time together, but The Voice returned with a second night of Blind Auditions that was just as entertaining as Sunday's season premiere.
Between the coaches goading each other to turn around for less than stellar acts, Blake taking bows after being told he's good looking, and even Cee Lo's ridiculous reading glasses, there was a lot of fun being had in those giant red swivel chairs.  My favorite, though, had to be Blake's admission that the contestants were getting "fooled by flash and boobs" in reference to Christina getting chosen a number of times early on.
Like Sunday night, the talent kept pouring in over the course of this two-hour event, as each coach picked up two more team members before the night was through. How do the teams stack up? And how are the judges doing at convincing the contestants to pick them? Let's take a look.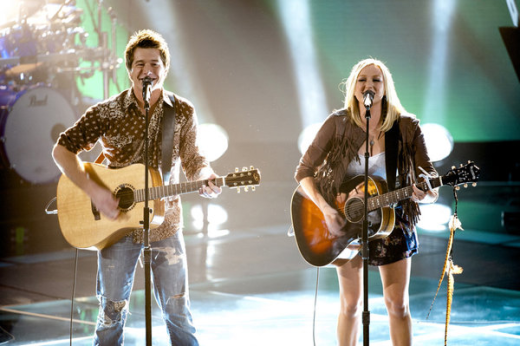 Leland and Hailey of The Line ended up on Team Christina.
Team Christina
Jesse Campbell
Chris Mann
*The Line
*Lindsey Pavao
Christina continued her hot streak from Sunday, picking up the first audition of the night in The Line. The country duo of Hailey and Leland from Nashville chose Xtina over all three of the other coaches after their version of "American Girl" blew them all away. I enjoyed them a lot, and their harmonies were great, but I definitely would have wanted to hear Hailey sing by herself before turning around. Since they're a country act, I was surprised that they chose Christina over Blake, but it was also surprising since he turned around immediately.
Later in the night, Christina picked up my favorite artist of the auditions thus far, Lindsey Pavao. She thinks of herself as a song writer, and enjoys doing new takes on songs, as she did with "Say Aah." Her interesting and original tone forced Christina, Cee Lo and Blake to turn around, and the 22-year old from Sacramento went with Xtina.
Whether it's because of the flash and boobs like Blake mentioned, or because these contestants think Christina is the one that can coach them to the championship, early on the singers are choosing Xtina with regularity. She has turned around a total of seven times in two nights, picking up four performers. That is a success rate of just over 57%, the highest among all four coaches.
Team Cee Lo
Juliet Simms
*Jamar Rogers
*Angie Johnson
Cee Lo was the only one to turn around for Jamar Rogers, 29, of the Bronx, but it didn't matter because this dude has been a Cee Lo fans since day one. He wasn't picking any other coach.  He had a nice mix of smooth R&B and raspy rocker tone during his rendition of "Seven Nation Army," and I was surprised only one coach elected to take him on.  His back story was also very uplifting, finding out that at one point he was homeless and addicted to crystal meth.
Later on, the crazy cat holding coach turned around for Angie Johnson of St. Louis when nobody else did. Her performance of an Adele song in an Army uniform was good enough for a million views on YouTube, but apparently her "Heartbreaker" could only get one out of four coaches to press that darn red button.
Cee Lo is on the opposite end of the coaching spectrum from Christina... nobody seems to want to play on his team. Over the course of the first two nights of Blind Auditions Cee Lo has turned around 11 times, and has three members on his team. That is a 27.2% success rate, and two out of his three successes went unopposed by the other coaches. That's not a good sign for Team Cee Lo.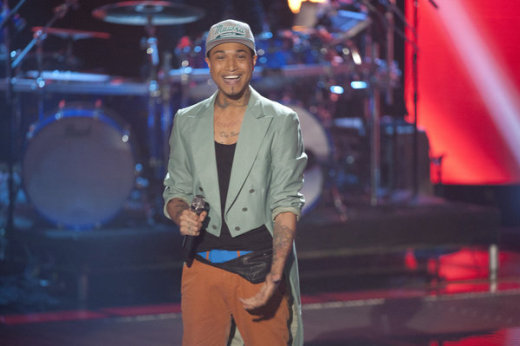 Jamar Rogers was ecstatic that his idol Cee Lo turned around for him.

Team Blake
RaeLynn
*Gwen Sebastian
*Jermaine Paul

After a montage of contestants who failed to get the coaches to push their buttons, Blake picked up 37 year old Gwen Sebastian for his first team-member of the night. The North Dakota native really embraced that part of her, and used it to give off a very intriguing, quirky vibe. Her singing also must have been good as Blake, Adam, and Cee Lo all turned around for her version of "Stay." She had an interesting tone, but didn't show quite enough range for my tastes. It wasn't a surprise that she went with Blake, especially given how early he turned his chair for her.

Blake also added 33 year old Jermaine Paul to his squad later in the evening. I have a couple of concerns with Jermaine. 1) He has been opening for Alicia Keyes on tour for years.  Isn't that enough of a platform to make it on your own if you are good enough? 2) He seemed a bit too big for his britches as he interviewed the coaches to make sure he picked the right one. Don't get me wrong, his "Complicated" was a wonderful take on the song, and a terrific performance, but I'm worried he might come off as too aggressive for some viewers.

Blake splits the difference between Christina and Cee Lo so far, turning around eight times with three current team members. He has a success rate of 37.5%, but has a nice mix of talent on his team in the early going.

Team Adam
Tony Lucca
*Kim Yarbrough
*Angel Taylor

Adam got on the board late again, as he was the final coach to pick up a contestant this time around. I don't think it was a coincidence that the first time he was chosen happened to be the first time he was the first coach to turn around. 50-year old Kim Yarbrough chose him over Christina after singing the heck out of "Tell Me Something Good." Maybe it was that Adam turned first, maybe it was that Christina didn't do so well with the similar Frenchie last year, or maybe it was Blake helping a brother out by reminding Kim who won this thing last year.

The final spot of the night is usually saved for the best, but I wasn't all that impressed by Angel Taylor. Her "Someone Like You" was nice, but she didn't even attempt to go into her upper register during the chorus, which makes me think hers isn't all that good. After getting Adam, Blake and Cee Lo to turn around, she went with Adam even though she admitted to having a huge crush on Blake.

Adam turned around first twice, and was chosen by the contestant each time. He turned around late a number of other times in the episode, and failed to get those singers on his team.  There seems to be a method to this madness! So far, like Blake, he has three contestants after turning eight times. That's a success rate of 37.5%.

*chosen on Monday.

---------------------------

Neal Middleton, Pamela Rose, Dez Duron, and Hoja Lopez were given showcases to America, but unfortunately none of the coaches turned around.  Hopefully for them, there will be a wildcard round like there was last season. TJ Gibson, Aly Jados, and Sam James were lumped together in a montage, so I don't see them ever returning to our televisions.

And so another episode of The Voice is in the books. Who was your favorite contestant of the night? Who was your favorite coach of the night? Which team is stacking up the best right now? And what the chizz is Cee Lo doing with that cat?

Don't forget to check out our brand new The Voice Quotes page (thanks to commenter mustang), and hit up our The Voice pictures page for all the photos of Monday's successful auditions. For now, sound off in the comments!

Dan Forcella is a TV Fanatic Staff Writer. Follow him on Twitter.

Tags: The Voice, Reviews