Kristin Chenoweth Previews GCB: It's Like Chocolate Cake!
by Matt Richenthal at .
It's impossible for Kristin Chenoweth to hide her enthusiasm over GCB, the new ABC comedy that premieres on Sunday on which she plays Carlene Cockburn, a conservative, religious Dallas resident who is none too pleased that Amanda Vaughn (Leslie Bibb) has returned home following a failed marriage.
"Oh my gosh, I love her so much," the actress said to me on the phone yesterday. "I knew I had to play her because I couldn't stand the idea of anyone else taking on this delicious villain."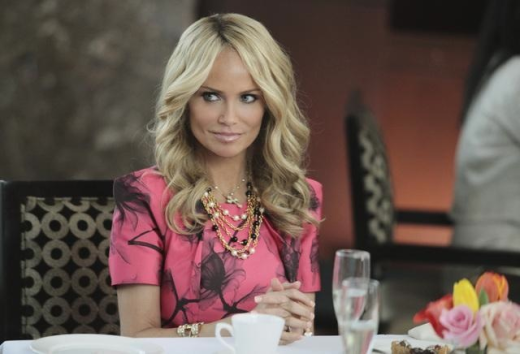 Of course, Chenoweth is quick to point out that Carlene is not just a villain. She was bullied in high school by Amanda and is forced to relive those memories when her nemesis moves back home.

"It derails her," the actress said of Amanda's reappearance. "A lot of people can understand how that could feel... I don't ever want to play a one-note character and you'll see many layers of her as the show goes on."

The show itself is based on the book "Good Christian Belles" by Kim Gatlin. And as the previews depict, there will be plenty of church scenes and religious references to come. Does Chenoweth expect any backlash as a result of touching on such sensitive topics?"

"Of course!" she replied. "But, look, I've been to the rodeo. Being a Christian person, who comes from a family of Christian woman, I would never do anything that crosses the line to make fun of my religion. We have fun with it. But there's a big difference between having fun and making fun."

She encourages critics to tune in before passing judgment on the series. If they do, the star is confident they'll enjoy themselves.

"People could use some fun," she says. "That's what this show is all about. It's chocolate cake!"

And, yes, to answer the questions many readers might have: Chenoweth will sing as early as the second episode.

Help yourself to a serving of this dessert Sunday night on ABC and then return to TV Fanatic as soon as the premiere concludes for a detailed review of GCB!

Matt Richenthal is the Editor in Chief of TV Fanatic. Follow him on Twitter and on Google+.

Tags: Exclusives, Kristin Chenoweth, GCB, Interviews
From Around the Web