Cybill Shepherd Speaks on The Client List, Jennifer Love Hewitt, Big Hair
by Carissa Pavlica at .
Cybill Shepherd is nothing if not gracious and charming, both signs of her southern upbringing in Memphis, Tennessee. And also Traits that come in handy as she tackles the role of Riley's mother, Linette, on The Client List.
What drew the veteran star to the Jennifer Love Hewitt-anchored series? Shepherd originated the character in the TV movie on which the drama is based, and she appreciates that "both men and women love the show," but her real motivation is a lot simpler than that:
"I would have done the phone book with Jennifer because she's such a wonderful actress."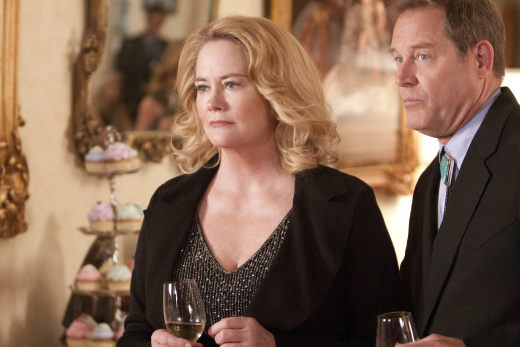 With Season 1 drawing to a close, and The Client List Season 2 already assured, Shepherd told reporters on a conference call this week that Linette will remain on the dark about her daughter's career.

"In the second season, it will be a huge reveal. As a mother myself I know that women relate to it because in life we sometimes have to do something that isn't so great. We have to support our children. It doesn't mean you agree, but you never stop loving them."

Shepherd, meanwhile, would love to see her own daughter, Clementine, make a guest appearance on the show.

As for her fictional relationship, it didn't take long for the actress to point to a favorite scene between Linette and Riley.

"Linette survived a lot. When Riley asks her, 'How did you get through being a single mom?' and I say, 'With chardonnay and a prayer.' That's southern women for you. Like Steel Magnolias. They seem feminine but they are strong. The bigger the hair the closer to God!"

Shepherd also hopes Linette gets the chance to sing some country karaoke to show off her pipes and wants women of all ages to be satisfied with who they are on the inside and not on the outside.

"Women are like fine wine, the older we get, the better we are. At 18, all the doors opened for me because of how I looked. But then I'd see myself on magazine covers and go home, look in the mirror and wonder where that girl was! She wasn't real! She was airbrushed that way."

She uses meditation to center herself and Christian faith for inspiration. "We need to be learning to love ourselves past a certain age, and remember there is always an opportunity to grow. It's what you do in life, love your bodies. Don't fight getting older. The alternative is to not be around!"

You can catch Shepherd later this year on Hot in Cleveland and as Shawn Spencer's mom on Psych. The Client List airs a new episode Sunday at 10/9c.

Carissa Pavlica is a staff writer for TV Fanatic. Follow her on Twitter and on Google+.

Tags: Interviews, The Client List
From Around the Web