Necessary Roughness Interview: Scott Cohen on "Life and Death" Season 2 Storyline
by Sean McKenna at . Comments
The second season of Necessary Roughness will spend a lot of time with Scott Cohen's Nico. Scott Cohen's mysterious Nico, we should say, as the TV Fanatic set visit to this USA hit revealed plans to expand the character's role this summer.
In what way? Who better to ask than Cohen himself? Sean McKenna was on location on Atlanta to do just that...
--------------------------------
Cohen, who plays the mysterious and efficient Nico on Necessary Roughness, admitted that he finds it funny when people think he's exactly like the Hawks' head of security.
"What interested me in terms of in trying to play Nico was trusting that, and really kind of understanding, that his presence was more than enough. And I hope they continue that because it's really fun to do, it's really fun to kind of put the fear of God in people."
The actor adding, joking: "I'm like, I'm not even doing anything. I'm just kind of standing around... it's very funny. It's like what you don't say, people kind of interpret what you're doing."
Look for Cohen to brings that quiet energy to the new season, too.
"[Nico] was so quiet but so intense and that to me was always interesting; and to be able to play that is so difficult to actually just shut up and trust that your power is in your silence or in your eyes or whatever it may be."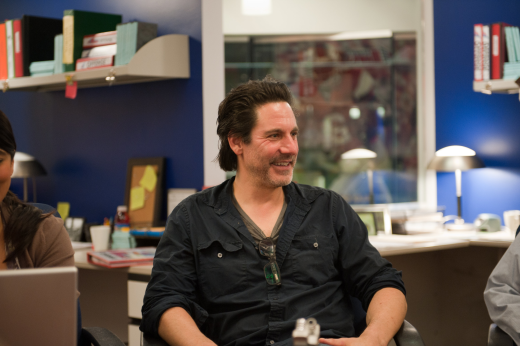 And while the normally stoic and in control character isn't laying on Dr. Dani's couch to open up, the Season 2 will dig deeper into Nico's past, especially when it comes to Marshall Pittman.

"You discover a history with them that is a lot more complicated than you kind of thought in the beginning, so it's not just about the wife, there's other things that are involved and there's competition and weird things with the daughter."

It's that vulnerable and personal history between the two men that is going to come to a head and cause more problems than Nico might like.

"It really gets nasty and [Pittman] plays what you believe is an evil human being. And you have to, I mean, he doesn't end up being an evil human being, but it's what Nico has to kind of keep it at bay. And he's having trouble doing it.

"It's life and death in terms of the stakes of the money that's involved and the team. And how many lives are at stake."

But even with Nico's own personal dilemmas and battles, he still has to worry about the Hawks' star athlete, the charismatically cocky TK.

Following the shooting that took place in the Necessary Roughness Season 1 finale, TK is dealing with his own vulnerabilities and Cohen acknowledged that he "needs to be protected, and Nico's the only one that can do it... [Nico becomes] like a father figure in certain ways.

"It can be looked at more like a best buddy thing. Like a 48 Hours sometimes. It's like that's kind of what we develop into."

There's even a specific scene in the season premiere that really amps up their relationship and reveals just how much TK really needs that particular person in his life.

Nico's loyalties might be tested and an unknown side of him will slowly be revealed, but will he ever find love? With Dr. Dani perhaps?

The actor smiled thoughtfully and replied: "Yes and no. I think it'd be a really interesting dynamic. I want it to happen, if it's ever going to happen, much later because I want it to be teased for years to come."

Scott Cohen brings calculatingly cool back to the field when Necessary Roughness returns Wednesday, June 6 at 10/9c on USA Network.

Sean McKenna is a TV Fanatic Staff Writer. Follow him on Twitter.

Tags: Exclusives, Interviews, Necessary Roughness