Christina Aguilera and her fans in the crowd are becoming more and more difficult to deal with on The Voice, but it's worth suffering through to get to fantastic performances like we saw on this week's Semifinals.
Seriously, I'm not sure which is worse, the fans that repeatedly scream out that they love Christina, or the pop queen responding to them every single time. It was more than that, though, this week. Christina was taking every opportunity to show her pipes, get up on stage to show her booty and make every contestant's performance about her. At first it was a bit entertaining, but now it's just getting annoying.
There were some great performances, too, making it even more of a shame Christina was too busy to notice them. Let's take a look at all that went down on The Voice's Semifinals...
Tony Lucca doin' the dang thing in an effort to make the finals.
Tony Lucca - "How You Like Me Now"
So his sob story is that he cooks dinner for his family? That's not going to get it done, Tony. What will get it done, though, is that performance! What is so interesting about Tony is that his voice doesn't sound all that phenomenal, but I am still intrigued every time he's on stage. Maybe it's that he is just so darn cool, or perhaps it was his unbelievably exciting performance skills, but I loved this a whole lot.
Blake said it was bad ass. Christina tried as hard as she could not to compliment him, but enjoyed his dance moves. Cee Lo became a fan of Tony. Adam said it was the perfect thing at the perfect moment.
Grade: A-
Erin Willett - "Without You"
Blake thought this was going to be her moment on The Voice, but while it was probably her best performance yet, I still don't think it was enough to resonate with America. Her lower register sounded pretty bad to start the song, and although she belted out some big notes as the song got going, I never got into it. If anything, the best part of the song was the fact that she changed it up to sound like her own.  
Christina thought it was bold to be so unique and original. Cee Lo said the whole thing was beautiful. Blake wanted everyone to know how beautiful Erin looked, and then commended her on her talent and strength.
Grade: B-
Chris Mann - "Ave Maria"
If he was going to go all out opera, I was hoping Chris would have attempted to take on Will Ferrell with a little "Por Ti Volare," but I guess this was an okay choice. What made this performance so great was that it started out not sound very much like opera at all. He warmed up to it, and absolutely belted out the back half with no regard for what type of music he was singing. Going back and forth between current hits and opera jams has been a pretty great decision by Chris.
Cee Lo called him the "incomparable Chris Mann," and said he was the epitome of this show. Adam thought it was cool to have such an eclectic group on The Voice. Christina felt the heavens open up, and was moved by the performance.
Grade: A-
Jamar Rogers - "If You Don't Know Me By Now"
I am not a very big Jamar fan, but he absolutely killed it here. He showed more range, power, tenderness and originality than he ever had before, and proved he has a chance to win this entire competition. He hit some notes that I didn't think he could, and made such an old song feel so contemporary, that I had a tough time thinking he didn't deserve to make the finals over my girl Juliet Simms.
Adam said he is purely a fan of what Jamar does. Blake thought it was the most laid back performance by Jamar so far, and he excelled because of it. Christina used it as an excuse to sing herself. Cee Lo said that the story of Jamar's life would be a best seller because we all want to know him.
Grade: A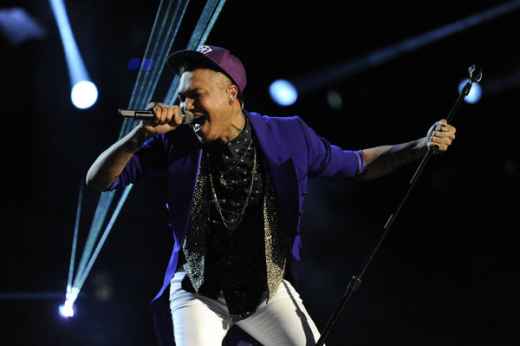 Jamar made things difficult for Juliet Simms fans with his fantastic performance this week.

Jermaine Paul - "Open Arms"
Maybe it's because this Journey song has been so overdone on these reality singing shows, or maybe it's just because his performance was so incredibly cheesy... wait no maybes at all. The major cheese factor lost me here. That, the insane amount of vibrato, and the fact that he missed a couple of crucial notes, left me less than impressed.

Christina said he murdered it and put the Jermaine on it. Cee Lo thought it was another wonderful performance. Adam said that he is no longer a background singer. Blake said Jermaine is peaking at the right time.
Grade: C

Katrina Parker - "Killing Me Softly"
Well that was completely mediocre. There was nothing wrong with Katrina's performance this week, but there was certainly nothing about that was going to make her stand out from the crowd. She went along, singing all the correct notes, and not earning any votes from me or the rest of America. I guess some of the blame has to go to the song choice, because wasn't a whole lot to do with this one.

Blake said it is hard to believe that she was sitting in a cubicle just a few months ago. Christina has fallen in love with Katrina, and went well out of her way to tell Adam to vote for her over Tony later on in the show. Cee Lo said she reinvented the song yet again. Adam liked that she didn't sound like Lauryn Hill.
Grade: C+

Lindsey Pavao - "Skinny Love"
The last time Lindsey did a strange song I had never heard of - "Somebody I Used to Know" - it quickly went on to be used on American Idol, Glee, Gotye was on SNL, and the song because a humongous hit.  I don't think "Skinny Love" was on that level, but Lindsey Pavao sure knows what her wheelhouse is, and she tapped into it yet again here. She's the last remaining member of The Voice's quirky contingent, and she took full advantage of that fact with this performance. It was interesting, and I loved it.

Cee Lo said he is more into "big love," but that Lindsey did a great job. Adam celebrated the whole show because everyone is so different. Blake said it was very good, and commended Christina for bringing Lindsey back to where she started. Christina loved the performance.
Grade: A-

Juliet Simms - "It's a Man's World"
How's the saying go?  Save the best for last?  Well The Voice really took that to heart in putting my girl Juliet in what American Idol viewers coined as the "pimp spot" many years back.  As a huge fan, I hope the final performance of the night is enough to push her past Jamar for the lone spot on Team Cee Lo in the finals.  I worry that it won't be enough, even though she yet again absolutely knocked it out of the park.  That's my girl.

Adam said that was something special and she is the one to beat. Christina brought it back to herself and talked about her performance at the Grammys. Cee Lo said she killed it.
Grade: A

The coaches will have to split their 100 points between the two remaining contestants on their team, and I would be surprised to see anything more than 51% for a single singer.  These coaches are so in love with their team members that they would dare show that much favoritism.

My choices would be Tony Lucca for Team Adam, Juliet Simms for Team Cee Lo, Lindsey Pavao for Team Xtina, and Erin Willett for Team Blake. Blake is surely the one losing out if that is indeed the final four.

Who would you send through to the finals? Were you as annoyed with Christina as I was, or are you as big of a fan as those people in the crowd every week? How great was Chris Mann photo-bombing in the Sprint Lounge? And what was your favorite performance of the night? Answer the poll below, and then sound off in the comments!

Dan Forcella is a TV Fanatic Staff Writer. Follow him on Twitter.

Tags: The Voice, Reviews