Daniel Gillies says he has no idea why his Vampire Diaries character of Elijah has resonated so well with fans of that CW smash.
"I'm very lucky," the actor simply told me over the phone yesterday in response to that question.
But ask Gillies about Saving Hope - the NBC drama that premieres tomorrow night at 9/8c - and he can far more easily explain why he's so excited for viewers to see the pilot, which he describes as "one of the best I've ever seen."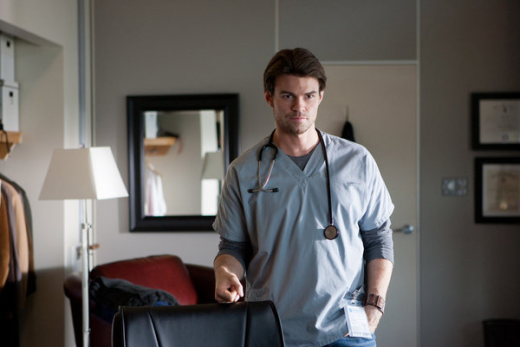 "David Wellington is going to be the next JJ Abrams," Gillies said of the show's executive producer, who directed the premiere and who Gillies praises for his "talent and vision," adding: "I'm telling you, this show is really good. It's engaging and compelling and funny and brave all at once."

Gillies explained that he watched the opening episode with his wife, acknowledging a "degree of cynicism" for both halves of the couple, and she "burst into tears" by the end.

"That's an accomplishment," said the star.

Saving Hope stars Gillies as Dr. Joel Goran, an orthopedic surgeon who takes a pay cut to work at Hope-Zion hospital, ostensibly to study stem cell research, but possibly to rekindle his romance with Erica Durance's Alex Reid.

"There's a grey region regarding his motives," Gillies teased. "He's not there making tons of dough and we suspect he still has feelings for Alex, but…"

… Dr. Charlie Harris (Michael Shanks) gets struck by a car on the premiere and falls into a coma, leaving Joel's chances for romance with Alex "anywhere between zero and fuck all," Gillies laughed.

As made clear in this Saving Hope promo, Harris proceeds to roam the halls of the hospital as an apparition of some kind, adding a mystical element to the series that Gillies describes as a "Greek chorus."

"It's a tough universe, balancing the mystical with the gritty reality," he says. "And there are congruences between both that start to inform one another as the show moves along."

To prepare for his role as a surgeon, Gillies devoured books by Dr. Atul Gawande (especially noting "Complications: A Surgeon's Notes on an Imperfect Science"), who he credits for writing about medicine in a bold, encyclopedic fashion that can be broken into layman's terms and which spells out exactly what it's like to be a doctor.

And Goran is an especially good one. He studied at Harvard and spent time in Mexico City, with Gillies shooting down any notion that his character is cocky and crediting the latter trip as a basis instead for what he details as extreme confidence.

"He's seen some dark places in the world. He's been exposed to dome dark stuff. And that really humbles a man, while also giving him confidence because he's been through so much and knows he can handle it."

Gillies says "the door's always open" for a return to The Vampire Diaries because he loves producer Julie Plec and that set just has a "special energy."

But his priority for now is Saving Hope. And, starting tomorrow, he hopes the same will be true for television fans across the country on Thursday nights this summer.

Matt Richenthal is the Editor in Chief of TV Fanatic. Follow him on Twitter and on Google+.

Tags: Exclusives, Interviews, Daniel Gillies, Saving Hope