Pretty Little Liars kicks off its wildly anticipated third season tonight, and TV Fanatic is all over the coverage.
First, we talked to the four title characters on set about the romances and mysteries to come this summer. Then, we got the scoop on the rumored A Team and whether there are more stalkers to be feared over the coming weeks.
Now, we've gotten Janel Parrish to come out of her hoodie and give us an idea of what we can expect from Mona on this evening's premiere and beyond...
-------------------------------------------
This is bigger than the girls ever thought.
So Parrish said in response to when we'll find out whether the A mystery begins and ends with Mona. The answers? Tonight; and, as you can tell by that major quote/tease, OH YES.
"It's the second anniversary of Alison's death and there's a new event that rocks Rosewood," Parrish said of the Season 3 premiere. "We call it The New Jenna Thing… and it will change the girls' world.'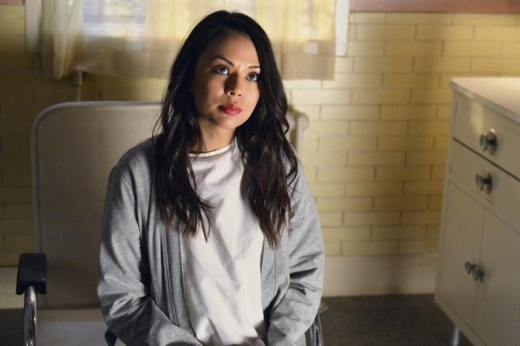 Viewers will also witness Hanna visiting her old pal in the asylum tonight, a visit that Parrish describes as a change for Hanna to find out whether Mona is really crazy or just faking it. It's a question fans may be asking for awhile.

Mona will go through a "yo-yo" of emotions, the actress said: "She'll be extremely unpredictable on a weekly basis, which is a blast to play."

Less fun for Parrish, though? The loss of her adorable clothing! Mona's asylum outfits are unlikely to create the same sort of online buzz as her wardrobe in past seasons, but there will always be flashbacks, Parrish says.

"I'll have a chance to look cute again," she laughed. "But for now they mostly just mess my hair up and put some dark circles under my eyes. It helps me get into character."

Pretty Little Liars returns tonight at 8 p.m. EST on ABC Family. Visit TV Fanatic soon after the premiere airs for a detailed review.

Matt Richenthal is the Editor in Chief of TV Fanatic. Follow him on Twitter and on Google+.

Tags: Exclusives, Pretty Little Liars, Janel Parrish, Interviews