Ashley Rickards has it pretty good these days, starring in MTV's Awkward, one of the most critically beloved shows of the summer.
But the actress has come up with a dream scenario that would make her world even better.
"If I could just have [Beau Mirchoff] shirtless in my pocket at all times, my life would be so much easier," she told me over the phone of her co-star. "I think there should be a Beau Barbie doll. People would just get lost in his beauty and majesty. It's a great merchandising opportunity."
While female viewers contemplate this fantasy, Rickards also offered up a great deal of scoop on Awkward Season 2, which kicked off last Thursday and which continues tonight with a new episode.
How does she feel about the balance of comedy and drama? Where do various relationships, including a certain love triangle, stand? Read on for the answers.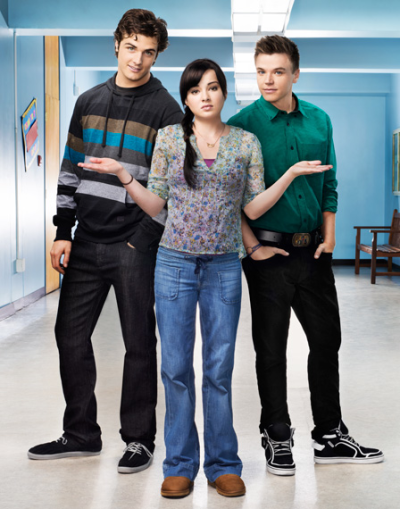 On walking the line between drama and comedy: "I portray a human being and what they go through in life, which can be funny or dramatic. I never took into account that it was a comedy, just a story about a girl who people can potentially relate to…

"We've had a year to get to know the characters who are progressing in their own journeys, with more struggles and triumphs... we're in a more intimate place with the audience and people can now see the good, the bad and the ugly."

On the anonymous blog commenter: "Jenna has looked at her blog as this safe haven. The stuff she writes in it is her most vulnerable, her most real self… so it's alarming and she doesn't quite know what to make of the [commenter]. But she makes this decision to roll with it, to let it be what it will be. It will play a big part of what she goes through."

On Jenna and her mother: "In Jenna's head, she's trying to grapple with the letter. Why did she write this? What was she trying to say? What should I do now? She's struggling with a lot of core emotions and going through the seven stages of grief, as is her mother. Both will end up in a different place in their relationship. It changes completely."

On Matty versus Jake: "She's currently in a relationship with someone from whom she's still keeping secrets and she has this relatively unresolved relationship with Matty.

"I believe that you never fall out of love with somebody, you just move on in life. But when I was 16, I didn't understand that concept. It's the same for Jenna. There's something in her relationship with Jake that's missing that she had with Matty and she doesn't know what to do. Team Matty fans should not be apprehensive about this season."

On Jenna's friendships with Ming and Tamara: "She's at a strong place now and starts to be less co-dependent on Tamara and Ming. They're still close, they still hang out a lot, but Jenna is forming her own identity and all three are becoming individuals.

"There's a big storyline coming up for Ming that really separates her from the two."

On Kyle the Stalker: "He's still there, he's still stalking. And [Actor Wesam Keesh] is not a super dork in real life, not at all. He actually has an amazing body. In the most positive way I can say this, he's an actor. He really is a leading man."

Perhaps we need to make a Wesam Keesh Barbie as well.

Matt Richenthal is the Editor in Chief of TV Fanatic. Follow him on Twitter and on Google+.

Tags: Exclusives, Interviews, Awkward, Ashley Rickards