TV Fanatic is teaming with Fox Home Entertainment to give away TWO copies of Sons of Anarchy Season 4 on Blu-ray.
Now that we have your attention, here is how you can snag the three-disc set:
REGISTER for TV Fanatic if you have not already done so. Only registered users are eligible for the prize.
Submit a caption(s) for one or both of the following photos. We'll select the most creative/funniest/wittiest entry for each and send that user a copy of the Blu-ray. (NOTE: submit as many entires as you'd like, but only one prize/reader.)
That's it! We'll select both winners on Monday, August 27. Best of luck to all. Now go ahead and make us laugh...
Up first, we have some prime caption material with Chucky staring down at a severed head: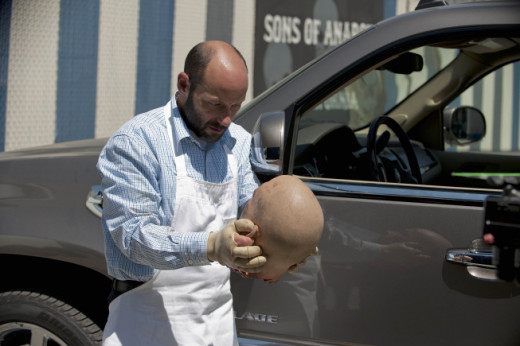 Well, looks like your headin' for the chili.
We also have a shot of Charlie Hunnam (as Jax) and the David Hasselhoff (as Dondo). What are these men saying or thinking? You tell us!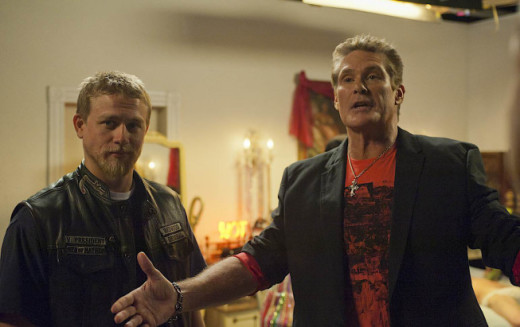 How bout we stop and grab a cheeseburger

Submit your captions in the Comments area below and then read about how SOA Season 4 compares to other shows that have delved into the world of drug trafficking. Once again... good luck!

UPDATE: We have two winners! Congratulations to "thespookyfog" and "kdubs23," the users who submitted the above captions for photos one and two, respectively. Thank you to all who participated and meet me back here throughout Sons of Anarchy Season 5 for my reviews, recaps, spoilers, photos and more.

Matt Richenthal is the Editor in Chief of TV Fanatic. Follow him on Twitter and on Google+.

Tags: Sons of Anarchy, Caption Contests, Giveaways