It's been a cold summer for fans of ABC Family's Switched at Birth.
But the drama finally returns with new episodes on Monday, September 3 and star Vanessa Marano offered up a preview of what's to come in a recent conference call with reporters.
Excerpts - and a few spoilers - follow a preview for "This is the Color of My Dreams."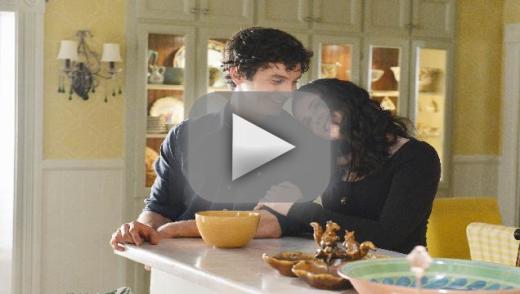 On the status of Bay and Emmett: [They are] left off on pretty shaky ground obviously. She found out that he cheated on her with her ex-best friend Simone, and she's not too happy about it... there's a lot of denial until finally the climactic scene of the premiere where she just lets him have it, and that's kind of the overall tone of the season is her struggling with accepting what Emmett did. Accepting that she's in pain about it and accepting a way to forgive.

On other fall storylines: There's the Angelo trial drama. Angelo being Bay's is, of course, illegally in the country and trying to stay in the country, and I believe the big teaser has been Regina in a wedding dress for the fall premiere. Not to give too much away, but it looks like everybody's going to head that way, and then, obviously, the Kennishs are still suing the hospital and that finally comes to a head this fall season.

How does Bay view Angelo? Bay is always a huge supporter of Angelo and I think it goes back to that needing to be loved thing because this is somebody who walked out on Daphne and did something completely horrible, and through that Bays like, "Oh, okay, well, he would hurt me but maybe he couldn't. Maybe because I am his daughter he'll love me." And therefore I think she's always rooting for him to come around or be the changed person that he says that he is. 

On Bay breaking bad: Bay starts turning to street art a little bit more again, which she did give up for a while because Emmett got arrested for painting a happy birthday message to her in street art. And so she was kind of shying away from it because of the whole arrest thing, but he cheated on her so now she's back at it. And she falls into the wrong crowd, and there's a particular character that she gets introduced to who has a major bad influence on her.

Return to TV Fanatic immediately following the Switched at Birth premiere - Monday, September 3 at 8/7c on ABC Family - for a full review of the episode!

Matt Richenthal is the Editor in Chief of TV Fanatic. Follow him on Twitter and on Google+.

Tags: Interviews, Switched at Birth