Will Mad Men or Downton Abbey own the night? Will Jimmy Kimmel make us laugh or cry as host? Will network television win a single award?
It's Emmy time again, folks, with ABC hosting the annual celebration and Dan Forcella live-blogging it for TV Fanatic. Join in the fun below, reading through his take on the ceremony and jumping in with your own in the Comments section.
Ready? Let's do this...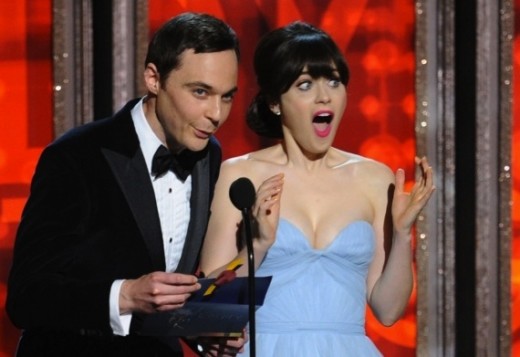 7:10 - Let's get started early with some red carpet footage. I'll be flipping back and forth between ABC and E!

7:21 - Christina Hendricks' husband's reaction to Ryan Seacrest asking her about Joan and Don Draper getting it on was priceless.

7:24 - Sofia Vergara is speaking to Chris Harrison on ABC. She is slightly attractive. That dress is only helping her cause.

7:30 - Claire Danes is preggers? Will that help Carrie Mathison save the day on season two of Homeland? I think the fact that she will soon win the Lead Actress in a Drama Emmy only adds to the happiness.

7:40 - Elisabeth Moss is a platinum blonde, and like usual, she probably won't win tonight. Mad Men never wins acting awards.  

7:43 - Keith Urban said he's happy Ryan and Randy Jackson are there while he's working at American Idol. Translation: Nicki Minaj and Mariah are crazy.

7:46 - Julie Bowen's version of yellow works a lot better than the others we've seen so far tonight. 

7:55 - Connie Britton and Hayden Panettiere are two of the three top fashion choices by ABC. That is promising for Nashville! Tune in Wednesdays this fall on ABC.  Then come to TV Fanatic for my weekly reviews (shameless plug).

8:01 - I know this entire open to the Emmys was bad, but the naked Lena Dunham eating cake on a toilet was completely unnecessary.

8:06 - I'm not a Jimmy Kimmel fan, but that President/Homeland, Sheen/Breaking Bad joke was pretty good.

8:10 - That Comedy clip reel was not great. This one for the entire season of television is.

8:13 - Supporting Actor in a Comedy...The Emmy goes to: ERIC STONESTREET! This is somewhat a surprise, but we knew it was staying in the Modern Family family. I was expecting it to go back to Ty Burrell, but we all know it should be in the hands of Donald Glover.

8:20 - Writing for a Comedy...The Emmy goes to: Louis C.K. for Louie's "Pregnant."  

8:23 - There were a lot of things that could have been funny about Breaking Bad being made back in the day. Nothing about that sketch was funny.

8:24 - Supporting Actress in a Comedy...The Emmy goes to: JULIE BOWEN! With two more acting wins for Modern Family, and what we should all assume is a third straight Best Comedy honor later in the night, it's safe to say that season four will probably be equally as disappointing as two and three, right?

8:32 - Matthew Perry being unlikable is so very likable to me.

8:33 - These winners were already announced, but just for kicks...Guest Actress in a Comedy: Kathy Bates for Two and a Half Men. Guest Actor in a Comedy: Jimmy Fallon for Saturday Night Live.

8:34 - Directing for a Comedy: Steve Levitan for Modern Family's "Baby on Board." More Modern Family love! Will this ever end? Like really, for five more years? Seven?

8:37 - This Modern Family sketch might be better than any episode of this past season. New Lily is ridiculously funny.

8:40 - How do I even continue this blog? Lead Actor in a Comedy Series...The Emmy goes to: JON CRYER!  I'm still in shock, and if the rest of this post is even more incoherent than usual it's because Cryer just won another Emmy for THAT performance.

8:45 - Lead Actress in a Comedy Series...The Emmy goes to: JULIA LOUIS-DREYFUS! I love this one! She was very good in Veep this year.

8:50 - Thanks for the stab in the stomach that was the reminder that Jermaine Paul actually won last season of The Voice. Actually, no. No thanks.

8:52 - Best Reality Competition...The Emmy goes to: The Amazing Race. Does everyone else multitask while Amazing Race is on in the background?  

8:59 - That Big Bang Theory bit should have been 10 seconds at most. There was one joke in there...not 17 attempts.

9:01 - Reality Show Host...The Emmy goes to: TOM BERGERON! I don't watch Dancing with the Stars, is he any good?

9:02 - Now THERE is some good background music for a clip reel! Robin Hood theme for the win!

9:05 - Supporting Actor in a Drama...The Emmy goes to: AARON PAUL! Not surprising at all, but I was expecting his castmate Esposito to win it. It's so refreshing to watch how humble Paul is when winning. It's like the opposite of Taylor Swift's surprised face.

9:14 - Of course Tracy Morgan has nunchucks, but what is the point of this bit? Not working for me.

9:16 - Writing for a Drama Series...The Emmy goes to: The Homeland people for its "Pilot." This may be a foreshadowing of Homeland taking out Mad Men later in the night for Best Drama Series.

9:18 - Supporting Actress in a Drama...The Emmy goes to: MAGGIE SMITH of Downton Abbey. I haven't caught up on the series yet, so I can't comment on her performance, but I know she was great as Wendy Darling on Hook. That was 21 years ago. Either Smith is aging incredibly well, or the makeup people on Hook did a fantastic job at making her look old.

9:24 - Again, these winners were already announced, but here they are again.  Guest Actress in a Drama: Martha Plimpton for The Good Wife. Guest Actor in a Drama: Jeremy Davies for Justified. Yay Justified love. It's currently the best show on television. You should be watching it.

9:26 - Directing for a Drama...The Emmy goes to: Tim Van Patten for Boardwalk Empire's "To the Lost." That season finale was fantastic, and easily the best episode of the year for Boardwalk, so good for him.

9:29 - Lead Actor in a Drama...The Emmy goes to: DAMIAN LEWIS!  I'm excited for his win even if I think Cranston was the best in the category. Also, his sense of humor is lost on Homeland. Lewis was absolutely hilarious in that acceptance speech.

9:37 - Lead Actress in a Drama...The Emmy goes to: CLAIRE DANES! All is right in the world! This was my favorite performance of the year. With writing, and both lead acting awards, is Homeland now a shoe-in for the Best Drama Award?

9:43 - "Fish and chips. Cheers," via Aziz Ansari.

9:46 - Writing for a Variety Special...The Emmy goes to: Louis C.K. for Live at the Beacon Theater.

9:52 - Directing for a Variety Special...The Emmy goes to: Glenn Weiss for the Tony Awards, who is also directing the Emmys. He's doing a good job so far.

9:55 - Best Variety Series...The Emmy goes to: The Daily Show with Jon Stewart. 10 consecutive years? Really? They should retire from the Emmys. Jon cursed. It was bleeped.

10:00 - It's only been 20 minutes since we left the Drama Awards, and I'm already bored. We're all just hanging on until the series awards at the end at this point. Time to battle.

10:05 - Miniseries should not be a thing. Why not just put all of these "mini" series in with drama and category? How are they all that different? American Horror Story, Sherlock, even Hatfields and McCoys? How are they any more different than the cable dramas, than the cable dramas are from the network dramas?

10:07 - Supporting Actress in a Miniseries or Movie...The Emmy goes to: JESSICA LANGE! 

10:15 - Supporting Actor in a Miniseries or Movie...The Emmy goes to: TOM BERENGER! I like the Hatfields and McCoys love, and at least this was a traditional Miniseries.

10:22 - If they had given that final spot in the In Memoriam to anyone other than Dick Clark, it would have been silly.

10:27 - Writing for a Miniseries or Movie...The Emmy goes to: Danny Strong for Game Change.

10:29 - Lead Actress in a Miniseries or Movie...The Emmy goes to: JULIANNE MOORE!

10:37 - Directing for a Miniseries or Movie...The Emmy goes to: Jay Roach for Game Change. I literally wrote in this winner before it was announced.

10:39 - Lead Actor in a Miniseries or Movie...The Emmy goes to: KEVIN COSTNER! Take that haters. Not only was he great in Hatfields, but he looks good in that suit and the sharp goatee.

10:46 - Are we really still on the miniseries category? Outstanding Miniseries or Movie...The Emmy goes to: GAME CHANGE. What a surprise!

10:48 - Here we go! The big awards. Outstanding Drama Series...The Emmy goes to: HOMELAND! I would say I called this, but it became much more obvious the longer the program went on.

10:55 - Michael J. Fox getting a standing ovation.  lassy act.

10:57 - Outstanding Comedy Series...The Emmy goes to: MODERN FAMILY! I understand that the voters love this show more than anything on earth, but why would you not let Drama Series take the final moment? It was a surprising win, while this was a third straight winner. Not nearly as exciting of a moment.  

10:59 - And to end the night, Modern Family's Steven Levitan got cut off. Another night at the Emmys is over. There were surprises, and there were definitely disappointments. Let the new season of television begin!

Dan Forcella is a TV Fanatic Staff Writer. Follow him on Twitter.

Tags: Emmy Awards