It's been far too long time since we've seen new episodes of Switched at Birth on our television screens, hasn't it?
With the ABC Family drama returning tonight, I jumped on the phone last week with Katie Leclerc, grilling the actress over just what fans can expect from a newly single Bay and Daphne, the former of which suffered a broken heart after Emmett slept with Simone, while Daphne's man, Wilkie, was set to attend boarding school.
Look for a summer to have passed when we meet back up with the gals and for Daphne to have landed a job at a restaurant.
As for a potential love interest?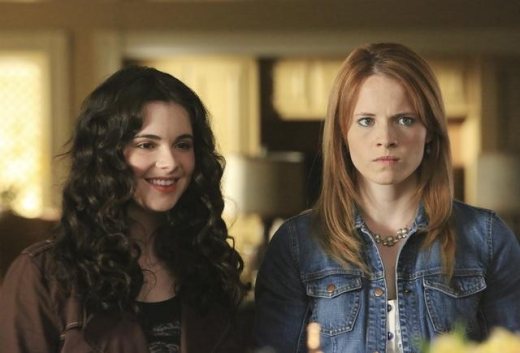 "Like any 16-year-old girl, Daphne's eyes are wide open for hunky boys," Leclerc teased, adding that her character will get involved in a "pretty steamy" relationship that angers the adults in her life.

Speaking of relationships, what happened with Bay after she found out about Emmett's indiscretion?

"Bay ran away to the Galapagos islands. As she returns, Daphne is conscious of her feelings but still friends with Emmett."

It sounds like Daphne has a lot to balance this season, including the craziness surrounding her parents.

"Regina has to decide whether or not Angelo is going to a part of her life," said Leclerc. "Does Bay get to know her real dad and does Daphne have to deal with this guy who was a jerk to her? Daphne has to deal with her feelings."

Given that the season premiere kicks off with Regina's wedding, there's a lot of anticipation regarding will happen between her and Angelo and her and Patrick. After all... we still don't know the groom!

Then there's the issue of Daphne's biological mother.

"Kathryn is excited about the book and John has to deal with the change in his marriage, how Kathryn's success could change their relationship. They have some really touching scenes together."

Tune in to ABC Family tonight at 8/7c for the Switched at Birth return and visit TV Fanatic the moment the episode ends for my detailed review.

Leigh Raines is a TV Fanatic Staff Writer. Follow her on Twitter.

Tags: Exclusives, Interviews, Switched at Birth