When we last left our favorite team on CBS' long-running drama NCIS, a bomb exploded with the lives of several of our team in jeopardy, with vengeful bad guy Harper Dearing (Richard Schiff) still on the loose and Ducky (David McCallum) collapsing on a beach after what appeared to be a heart attack.
While there's no real doubt that the team will bounce back, how will the bombing affect them long-term, and will bad boy Dearing finally get his due? TV Fanatic's Jim Halterman went to the man with the answers, Gary Glasberg, Executive Producer of NCIS, for some grilling ...
---------------------------------------

TV Fanatic: So what is your theme for NCIS Season 10, if there is one?

GG: The theme that we've sort of been running with is fallen heroes and that picks up with the explosion that they go through, with the post-traumatic stress that they all experienced because of that. Director Vance (Rocky Carroll) is heard blaming himself for the explosion. You've got Abby (Pauley Perrette) who is psychologically questioning the good… where's the good in people? And that carries through in a lot of ways for everyone in terms of looking at themselves and looking at what they want and how they move forward. And that sort of getting knocked down and picking yourself back up again, literally for Ducky in this instance, will carry through in a lot of ways all the way through the season.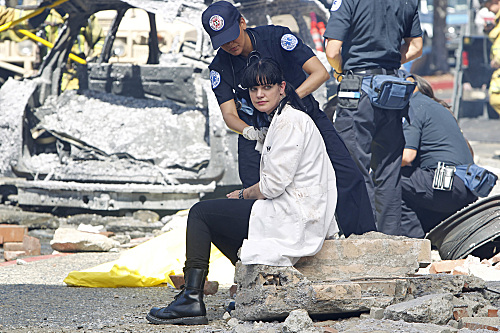 TVF: So you're really going to dive into a post-traumatic stress disorder story in the coming episodes?

GG: There's a very significant posttraumatic stress story that will be a two-parter in November, the two weeks leading up to Thanksgiving. And it focuses on the Marines who recently returned from the Middle East and it's a very emotional story that gives connects to…we have some terrific actors, Brad Beyer, who was on Jericho [and last season's GCB], another actor named Glen Powell, and a wonderful actor who I've worked with before named Mark Rolston who many people know from Shawshank Redemption. But a really, really nice story and we're filming that right now, and I'm excited about it.

TVF: I want to ask about Harper Dearing a little bit. From a writer's perspective, how long do you guys decide to keep a villain like that around? He's really terrific.

GG: Sure. It's a tricky balance, you know. You would love nothing more than to keep them present and keep them active for as long as you can. This is a show that tends to have arcs that run 3-4 episodes at the most and then we sort of move back to self-contained story lines, so that's sort of the extent. The Scott Wolf scenario we managed to stretch out on and off through the whole season last year. I was fortunate in that Scott wanted to do that and was available to do it.
You know, it's tricky when it comes into people's schedules and everyone's off doing different things, whether it's TV or movies or whatnot, and it's difficult to kind of step away and then come back again, but that was an instance where it really worked out. So I think you just sort of tackle it on a character-by-character basis and you decide how significant that role is going to be through the season.

TVF: Watching Tony (Michael Weatherly) and Ziva (Cote de Pablo) in that elevator in the premiere, I found myself wanting them to get together, which I guess maybe means you should keep them apart for purposes of tension and story. What do you think?

GG: Yes and no. I mean, you know, we are in Season 10 and, you know, Cote and Michael are all for the idea of teasing it more and playing with it more and taking baby steps with it, and that's fun for us. And we're happy to keep playing with it as long as we're getting something out of it and the actors are getting something out of it and the viewers want to see it.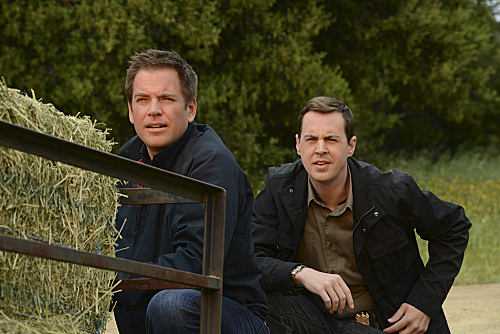 TVF: Our team is such a family but having their actual family – like Robert Wagner as DiNozzo's Dad – is always fun and insightful. Are we going to meet any new family members this season?


GG: I don't know. We'll have to see. It's always fun to find someone new to introduce. We teased a little bit the idea of McGee's father and we'll have to see if anything comes up from that in this episode when he's on the phone with his grandmother. But, you know, it's always fun to sort of dig into their past and find something that explains a little bit more about who they are and that's something that I can do on this show and I'm always willing to do it. You know, it brings all kinds of added layers to understanding what makes them tick.


TVF: CBS is so procedural heavy and the franchise has dabbled in crossover with Hawaii Five-O. Is that something that you're a fan of doing?


GG: Yeah. I'm certainly always open to it. It is very tricky when it comes to schedules and very tricky when it comes to the tone of different shows. You want to make sure that shows connect properly but I'm always willing to discuss it and the door's always open in terms of that.


TVF: You guys have done over 200 episodes and yet the show doesn't feel tired at all. Is there an endgame in your mind at all? I mean, the show is stronger than ever so it could easily run for many more years.


GG: It's very possible. I mean, look, we sit down at the beginning of every season ... I'm talking about the writers. But the writers sit down and we look at each other and when the time comes that I feel like we're struggling to put a story together, that'll be the indication that it's time. And I have to tell you, we're nowhere near that.

NCIS Season 10 kicks off next Tuesday at 8/7c on CBS.

Jim Halterman is the West Coast Editor of TV Fanatic and the owner of JimHalterman.com. Follow him on Twitter.

Tags: Exclusives, NCIS, Interviews