The X Factor Review: I Love You, Britney
by Dan Forcella at .
I figured out why The X Factor and other singing competition shows usually spend two hours showing us auditions: because when an episode is only one hour, nothing really happens. At least that was the case on tonight's back half of The X Factor's season two premiere.
There were a couple of nice moments, a few awful auditions and one extremely scary contestant, but it all seemed to go by extremely quickly. Let's take a look at what happened with The Good, The Bad and The Judges...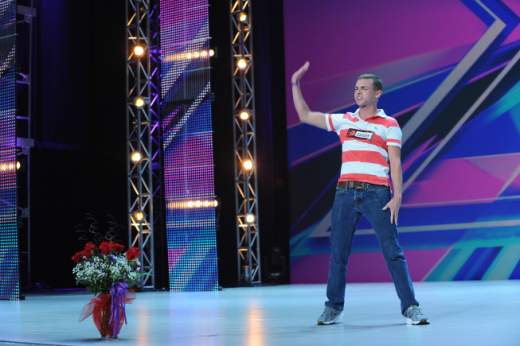 The Good

Jason Brock: This "nerd herder" was so excited to be on stage that he became quite the little chatter box in front of the judges, bringing us all in on his plans for the perfect concert. To be honest, I'm glad he didn't do the glitter explosion right then and there, but once he started singing the jokes ended. He was great. His voice showed strength and range.  He may have enjoyed the runs a bit too much, but his "New York State of Mind" was pretty darn good.

Carly Rose Sonenclar: She's just 13, so it seems this has become the hot spot for tweens everywhere. Carly's booming vocal on "Feeling Good" wasn't surprising given how much the judges played up that they thought she was taking on too big of a challenge (get to this fact more later). We've seen young kids do well before on this show (see: Rachel Crow), but let's hope Simon doesn't ruin Carly by giving her what he thinks are young and hip songs like he did to Rachel.

The Bad

Lexa Berman: Coined as Jersey Shore meets The Kardashians, Lexa was just bad. She wasn't interestingly bad, just bad. Britney called her boring, and Demi was a bit scared to say no to her, but by the end of the audition, it was just another rejection.

Pat Ford: Pat, on the other hand, was all kinds of crazy. I mean this dude was so obsessed with Britney that I'm surprised she didn't walk to her car during the song.Personas like these have to be completely fabricated, right? I know people are this strange in real life, but if they are, wouldn't The X Factor producers not want them anywhere near their talent? I was kind of afraid everyone in the building with this dude on the loose.

Johnny Maxwell: Yeah, I know Johnny made it through to the next round, but I am still in shock because of that. The judges were joking about liking him right?  His voice seemed decent, but that was the least of his worries. He was just an absolute mess on stage with no semblance of the ability to keep things together. Unlike Chris Rene, he won't be able to take his original all the way to the finals.

The Judges

Getting back to my complaint about the judges playing up the fact that they had no idea Carly was going to be good...that is insane. If we didn't all already realize that they know who is and isn't going to be good before anyone takes the stage, then L.A.'s terribly acted "Whaaaaat?" when Carly started singing sealed the deal.

Come on, man!  Oh, did you rehearse? Are you sure you want to sing such a difficult song?  Playing up the fact that the judges are going to be surprised is completely played out, and when L.A. sells it so poorly, it unfortunately feels more and more like America's Got Talent. That's not a good thing.

Other than that mishap the judges were quite good again. Britney and Demi seem to be gelling quite nicely with the crew, and Simon and Demi's relationship in particular has been fun to watch in the early going. She teases him about being single, he throws cake in her face, it's a nice niece/much much older uncle feeling that have going on.

-------------------

Although there wasn't much talent to see on tonight's second part to The X Factor's season two premiere, what did you think was the highlight of the night? Who was your favorite contestant? And who was the worst?

Dan Forcella is a TV Fanatic Staff Writer. Follow him on Twitter.

Tags: The X Factor, Reviews
From Around the Web