Fringe Set Interview: Jasika Nicole on the Challenge of the Tapes
by Carla Day at . Comments
Walter's brain has been through so much over the years on Fringe. William Bell removed a portion of it, September compartmentalized a plan in there somewhere - and then, in 2036, the missing piece was replaced, then an Observer invaded his brain to try to unify the plan.
Plus, there's the LSD.
A fried brain doesn't make finding a disparate plan inside easy, but Walter had a back-up. In "In Absentia," the team returned to Walter's lab and extricated a Betamax tape that included a message from Walter about the plan.
TV Fanatic had the opportunity to visit the Fringe set in Vancouver (trip provided by Warner Bros TV) to speak with cast members Joshua Jackson, Anna Torv, John Noble and Jasika Nicole.
Here's a video clip from Nicole's interview. She talks about the role that Astrid will play in helping Walter with the tapes and remembering the plan: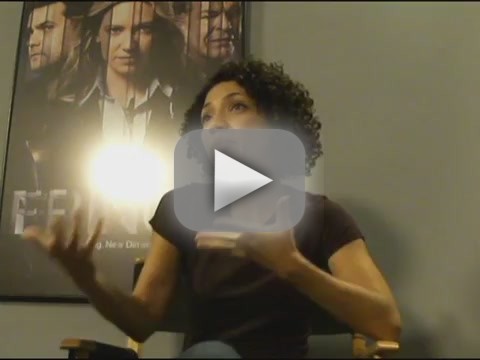 The mystery is on and it's Astrid's job to figure the tapes out. As Nicole explains:

"These tapes are pretty much all out of order ... it's kinda like this puzzle that's been scrambled and thrown apart everywhere and so they're trying to put it all together in a way that makes sense and is cohesive, but a lot of the tapes are damaged because they've been stuck in amber."

The biggest challenge looks to be from the physical tapes themselves, not in understanding Walter's actual message.

"There's a VCR and we all know how crappy VCRs are so there are a lot of scenes with Astrid fumbling with the tracking. Do you remember the tracking wheel on the VCR?," Nicole says, adding:

"It's an old, old VCR. And he recorded it with an old, old tape recorder, so there's a lot of fuzzy stuff and the tape rolls and then his voice will slow down and stretch out so there's tons of her just having to decipher what it was that he said."

The Fringe team has plenty of challenges ahead of them before it can save the world, but working with old video tapes may win the award for the most time consuming and frustrating. If any of member can handle it, it would be the patient, Astrid.

In the coming weeks, we will have more from the cast interviews. In the meantime, check out our weekly Fringe reviews and Round Table discussions.

Carla Day is a staff writer for TV Fanatic. Follow her on Twitter and on Google+.

Tags: Fringe, Interviews, Set Visits