The Voice returned with a trio of battles on Monday night. With only a few spots remaining on each of the four teams, it seems like the Battle Rounds are finally almost over.  And thank God, because it's been a bit too long at this point.
Something that was even more frustrating during the hour was Xtina's canned response for why she doesn't steal a contestant. Her statement about putting together a team that will mesh together throughout the competition is the biggest heap of garbage I've ever heard. They don't need to sing well together, or even practice together! They need to perform well on the stage by themselves! Either steal someone you think is good, or admit that you didn't like them enough. These explanations are unbearable.
The performers on Monday night were not. There is definitely loads of talent on this season, so let's take a look at how some of them did...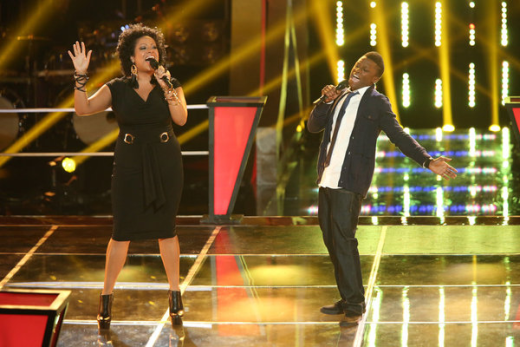 Team Cee Lo - Alexis Marceaux vs. Daniel Rosa - "Whataya Want From Me"

The Battle: The coaches kept mentioning how Alexis was classically trained, and that Daniel was allowing his nerves to get the best of him during practice. I don't think the classical training was a hindrance for Alexis at all, as the coaches mentioned it might be. Her command over the song was extremely evident, and it sucked me in immediately. I felt that Daniel, on the other hand, was hurt by his nerves a bit. He didn't look all that comfortable on stage, and it put a damper on his performance.
My Choice: Alexis
Cee Lo's Choice: Daniel
Battle Grade: B+

Team Adam - Brandon Mahone vs. Nicole Nelson - "Ain't No Mountain High Enough"

The Battle: This battled was billed as experienced talent against new talent, but I saw it more as old school vs. new school. Brandon seems much more likely to fit in today's music scene. During the performance Nicole really took Adam's lesson of "less is more" to heart, because I didn't think she did much of anything up there. It's obvious she has a great voice, but there doesn't seem to be nearly as much to do with it. Brandon's, as was evident here, can do any number of things. The range he went through on that track was incredible.
My Choice: Brandon
Adam's Choice: Nicole
Battle Grade: A-

Team Adam - Loren Allred defeated Brian Scartocci
Team Blake - Cassadee Pope defeated Ryan Jirovec
Team Adam - Joe Kirkland defeated Samuel Mouton

Team Xtina - Devyn Deldera vs. Marissaann - "Free Your Mind"

The Battle: Apparently Marissaann is 15 years old. If you had told me she was mid-20s, I would have believed you. The power, and the sassiness she brought to the stage within the first minute only affirmed my opinion that she doesn't seem like a teenager. Devyn's voice was fine, but it definitely lacked the pop that Marissaann's gave off in this serious rock tune.
My Choice: Marissaann
Xtina's Choice: Devyn
Battle Grade: B
Steal: "I like Marissaann," Blake Shelton said. Way to go Mr. Shelton. Great decision.

----------------

Which of Monday's three battles was your favorite? Which contestant did you enjoy the most? Did the coaches make the correct decisions, or did you agree with my choices?  

Dan Forcella is a TV Fanatic Staff Writer. Follow him on Twitter.

Tags: The Voice, Reviews