The Voice was in full theft mode Tuesday night, as the new "steal" option was utilized once again by the coaches.
With an hour of airtime, we only got to witness three battles. I'm not complaining that we missed Celica vs. Lisa and Rudy vs. Charlie, because they probably weren't all that interesting, but maybe a little less practice time and they could afford to show ALL the battles!
Let's see who won and who lost this time around in the Battle Rounds...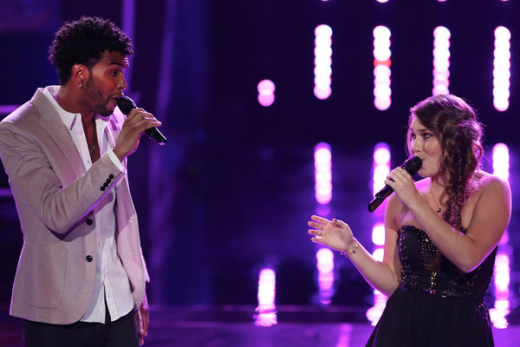 Team Cee Lo - Cody Belew vs. Domo - "Telephone"

The Battle: It's difficult not to want Domo to fail due to the fact that there seems to be no limit to her arrogance. She definitely didn't fail nearly as much as she did in the blind auditions, but it was obvious once again that she just doesn't have the vocal chops to be interesting in this competition. Her performance wasn't enough to compete with Cody's voice, even if this song was way out of his comfort zone.
My Choice: Cody
Cee Lo's Choice: Domo Cody, wow I literally typed Domo while Cee Lo was speaking because I thought she was a lock.
Battle Grade: C+

Team Xtina - Aquile vs. Nathalie Hernandez - "You Give Me Something"

The Battle: From the practices it seems like an interesting battle between smooth tone and gritty rasp. Aquile had the experience on the young 15 year old, but Nathalie was determined to come out victorious. There are some performances in this round that are epic battles, and then there are those like this one, that are just fantastic duets. They sounded great together, but Aquile sounded too perfect not to keep in this competition.
My Choice: Aquile
Xtina's Choice: Aquile
Battle Grade: A-

Team Xtina - Celica Westbrook defeated Lisa Scinta

Team Blake - Rudy Parris defeated Charlie Rey

Team Adam - Caitlin Michele vs. Melanie Martinez - "Lights"

The Battle: These battle practices continue to intrigue me as the two contestants size each other up, like when Caitlin was a bit in awe of Melanie's voice. If Monday night's finale was a battle of power and tone, Tuesday's was a showcase of artistry and quirkiness. Both of them wowed me with their ability to just be different, but I think Caitlin has much more range in what she would be able to do in this competition.
My Choice: Caitlin
Adam's Choice: Melanie
Battle Grade: A-
Steal: Blake and Cee Lo both go for it, and Caitlin chooses Cee Lo even though he didn't originally turn around for her at the auditions.

-----------------

Which of tonight's three battles was your favorite? Did the coaches make the right choices? And who would you have stolen if you were sitting in a giant red swivel chair?

Dan Forcella is a TV Fanatic Staff Writer. Follow him on Twitter.

Tags: The Voice, Reviews