Team Blake and Team Adam battled for a spot in the Top 12 on Monday night's episode of The Voice. Which contestants proved themselves to their coaches and to America? Let's take a look at what all went down, and see who is in the best shape to move on.
The show began with a bunch of chatter, and continued with a group performance from Team Adam and Team Blake, which highlighted Terry McDermott in the lead role. Then it was on to the solo performances...
Joselyn Rivera - "Give Your Heart a Break"
Jossy suffered from the fact that her voice doesn't have nearly as much grit as Demi Lovato's. Then, on top of that, she really had trouble with pitch on those power notes.  Hey, she looked great. So she had that going for her. I'm not sure what the coaches were listening to on that one, because they all seemed to think it was the best thing of all time. Maybe they had iPods in their pockets?
Grade: D
That first segment from Christina Milian was so mediocre that it was 100 times better than anything she did last season.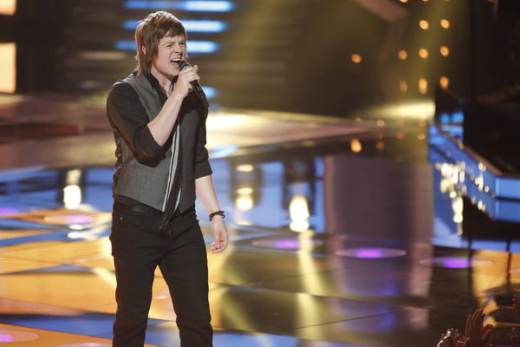 Terry McDermott - "Don't Stop Believin"
This was good from the first note, but it's so hard to do anything amazing with the Journey track because it's been done a million times and again. He didn't miss a single note, and he certainly had the power to pull this off, but again, it wasn't anything different than what we've seen in the past on this song. Blake mentioned something about Terry getting the most ability "to rock" from God, but I think he was just guessing.
Grade: B+
Melanie Martinez - "Hit the Road Jack"
The first half of her performance was way too one note, but towards the end she added a couple of runs and some falsetto to mix it up a bit. She definitely missed an opportunity to come up with something awesome to do with the "what you say" moments, but like the coaches said, it was a nice twist on the classic. She is certainly an artist, and that can go a long way.
Grade: B-
Liz Davis - "Independence Day"
I would have preferred a more recent song for Liz, but there was absolutely nothing wrong with her performance. She had power, she has a nice tone, and she seems like the consummate professional up on that stage. I can't believe she's the only country singer left in the competition. The country fan in me can't accept there being none left by next week. People should vote for Liz.
Grade: B
Cassadee Pope - "My Happy Ending"
Her energy was there, but that only gets you so far in a competition like this. The vibrato at the end of almost every line ruined the whole thing for me.  Her more tender moments, when she went into the falsetto closer to the end, were definitely the highlights for her. Before Blake claimed she was a fan favorite, he probably should have seen Thursday's results, because I don't think she will be America's top two.
Grade: D+
Bryan Keith - "Iris"
For the most part, Bryan sounded very much like the original. When that original performance is done by the Goo Goo Dolls, I will never complain about that fact. What I loved about this, though, was that although a majority of it sounded similar to the track, he also did a fantastic job at changing the ends of sentences just enough to make the whole thing feel like his own. Like Xtina said, he really owned the performance.
Grade: A-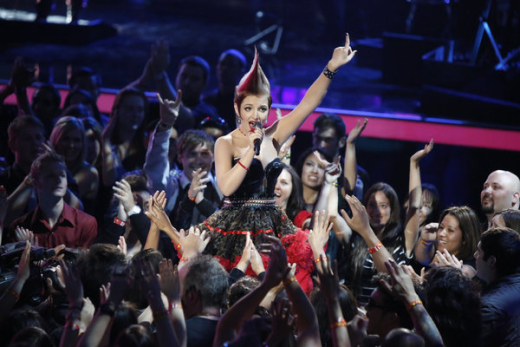 Michaela Paige - "Everybody Talks"
I didn't enjoy Michaela all that much in the Knockout Round, so I was pleasantly surprised by this performance tonight. Her personality on stage was great, but the fact that she succeeded vocally through all of her running around on stage was such a major accomplishment. That's not easy to do.
Grade: A-

Julio Ceser Castillo - "El Rey"
Did you hear how long he was holding those notes?  That was some unbelievable stuff right there. Whether it was comfort because he was singing in Spanish, or just that it was the type of song he's familiar singing, Julio really was able to get the emotion involved in that performance. Oh, and he killed it vocally as well.
Grade: A

Loren Allred - "All Around the World"
This was proof that you can lose a viewer just on song choice. I was checked out as soon as the music started. It's a shame, too, because her voice actually sounded very nice on the track. She has some power, she has a nice tone, but I was so bored with the song in general.
Grade: C

Amanda Brown - "Dream On"
Would it have more of an impact if I just left this space blank, because she was THAT good? Well I can't do that. I have seen this Aerosmith track performed a number of times on shows like this, and it's usually horrendous. Amanda was phenomenal in every aspect. If her singing wasn't immaculate this performance still would have been the best of the night just based on her aura. She makes you want to pay attention to every single thing that she does on stage, because she's that interesting of a performer.
Grade: A+

---------------

If I were Adam I would save Amanda Brown and Bryan Keith. And if I were America, I'd save Melanie Martinez as my third. On Team Blake, I would save Julio Cesar Castillo and Terry McDermott. My third choice would be a tough decision, but I'd choose Michaela Paige slightly over Liz Davis.

What about you all? Who was your favorite of the night? Which was your least favorite performance? Who do you think will move on to the Top 12? And who is heading home?

Dan Forcella is a TV Fanatic Staff Writer. Follow him on Twitter.

Tags: The Voice, Reviews