The X Factor Top 12 Review: Doubting Demi's Divas
by Dan Forcella at .
The X Factor's Top 12 performed for America's vote on Wednesday night. Who did enough to secure a spot in the next round? Who will be heading home on Thursday night?
Read along for our take, and then vote for your favorite in our poll...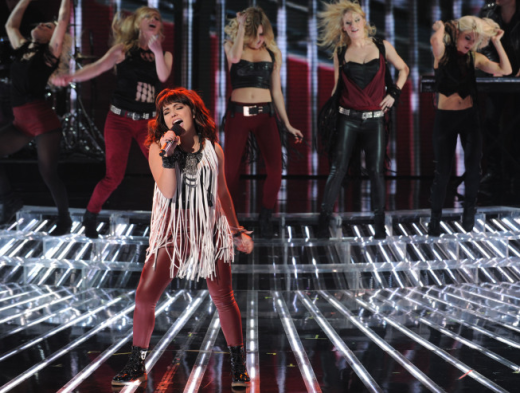 Jennel Garcia: (Proud Mary) I couldn't disagree with the judges more on this one. I thought she said she was really into dance. Why didn't she dance at all in that performance? Just running around on stage isn't dancing. That running around did however cause her not be able to do anything vocally. This was a very run of the mill rendition of a song that isn't all that great for a singing competition to begin with.
Grade: D+

Tate Stevens: (From this Moment) This was a very decent duet with whoever was singing that background vocal. I have to say this about Tate, he never misses a note.  Unfortunately, he doesn't really have anything that makes him special.  He might have done better than last week, but last week's was so mediocre that I don't even remember it.  
Grade: C+

Diamond White: (Halo) This performance was proof that you can do a million little vocal tricks without making it sound ridiculous and forced. Diamond did a number of things with that rendition to show off her vocal, and the best part is that she continues to keep things current. She's so likable that it's infectious, and that's why she'll continue to get a lot of votes.
Grade: B+

Beatrice Miller: (Time After Time) She should win if only for wearing safety pins as an earring. I've been a big fan of Beatrice since the beginning, so I wouldn't say this was my favorite performance of hers, but it was definitely better than most others on The X Factor. It was understated for the most part, but she still hit that big moment towards the end, which eventually won me over.
Grade: A-

Lyric145: (ET/We Will Rock You) I completely agreed with L.A. and Britney. These guys continue to talk out the lyrics to non-rap songs, and it doesn't make that much sense. When they're not butchering verses, they're jumping around on stage while the backing track sings the chorus. On top of all that, Lyric just started yelling at the crowd when Demi was trying to give her judgments.
Grade: F

Arin Ray: (Crazy For You) I wasn't a big Arin Ray fan before this week, but one way to significantly change that is to show some awkward teen drama behind the scenes! Maybe it was simply because of that stuff with Arin and the girl from Fifth Harmony, but I was hanging on every word of his performance. I can't believe the judges said it was boring.  His voice sounded fantastic, and he seemed really into it.
Grade: B+

Paige Thomas: (Last Dance) The first third of that performance was exactly what she should be doing every week...a booming vocal without all the hysterics. Once she got into the fast paced stuff it just ended up being same old same old from Paige.  Most of the time we couldn't even hear her. I'm not sure if she was out of breath, or if she just couldn't concentrate on both dancing and singing, but it wasn't good.
Grade: D+

Fifth Harmony: (Hero) This was definitely one of those that probably sounded a lot different to the judges than it did to us at home. There was certainly an issue with the mics, beginning with Dinah Jane's solo.  I was really excited when they began giving us a bunch of different dynamics when all five started singing, but the mics screwed it all up. Some couldn't be heard at all, while some where too loud. It's a shame, because I think it was actually sung really well.
Grade: B

Carly Rose Sonenclar: (My Heart Will Go On) Here's the thing about this performance. Sylvia Yacoub sang this track on The Voice this week, and I'll tell you exactly why this completely outshined that. The seasoned Yacoub probably has a better overall voice than this 13 year old, but Carly has all of the intangibles that mean she has star potential. Between her emotional facial expressions, and her daring inflections that changed this standard into something of her own, this became a very, very good performance.
Grade: A

Vino Alan: (Let's Stay Together) Tone. His tone is immaculate. It might not have been the biggest performance he's put forth, but the understated style was certainly enjoyable.  He has soul, and he poured that soul out on the stage this week. But, wait, a 10-year old cover version of an Al Green song counts as a Tina Turner diva hit?
Grade: B+

Emblem3: (No One) The three amigos weren't as amazing as last week, but their original sound can make any song sound like their own, and that is a great thing in a competition like this. I also really love the lead singer's voice. It's not the best of all time, but it is seriously interesting, and that works.
Grade: A-

CeCe Frey: (All By Myself) Not only week to week, but even within a single performance, CeCe is the epitome of inconsistent. She hit a couple of huge, huge notes, but she also missed one big one and her lower register was something kind of awful. This was definitely a better idea than what they came up with for her the past couple of times, but I don't think that's saying much.
Grade: C-

Weekly Rankings
1. Carly Rose Sonenclar
2. Emblem3
3. Beatrice Miller
4. Arin Ray
5. Diamond White
6. Vino Alan
7. Fifth Harmony
8. Tate Stevens
9. CeCe Frey
10. Jennel Garcia
11. Paige Thomas
12. Lyric145

There you have it, TV Fanatics. Now it's your turn. Who was your favorite form Diva night on The X Factor?

Dan Forcella is a TV Fanatic Staff Writer. Follow him on Twitter.

Tags: The X Factor, Reviews
From Around the Web