The X Factor Finals Review: An Underdog Story
by Dan Forcella at .
After a very nice tribute to those affected by the tragedy in Newtown, Connecticut, The X Factor Season 2 got right down to business with its final performances.
Carly Rose Sonenclar, Tate Stevens and Fifth Harmony each put forth three performances in their last chance to win America's vote. Let's recap the night and figure out show should win this thing...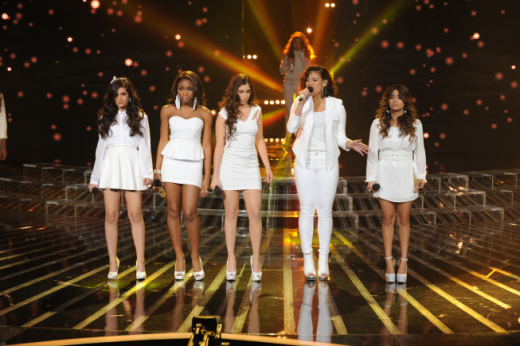 Carly Rose Sonenclar - "Feeling Good"
It's always the best decision to choose something from an audition when you pick a performance from the past. The first time America heard it there was no production, so now that there was this time around, it should have been much, much better. This was fine, but not championship worthy.  
Grade: B+

Tate Stevens - "Anything Goes"
From the very beginning I've thought Tate was extremely mundane both as a performer and as a person. That didn't change with this version of the song he sang at his audition.  It was fine, and his voice is good, but it's still nothing to win a competition over.
Grade: B

Fifth Harmony - "Anything Can Happen"
I am not one to throw out wild conspiracy theories, but I will here. Either Fifth Unison improved 200% since they sang this track last week, or that was a lip sync. Most evident in the very beginning, when the backing track was yet to jump in, their voices melded together a little too well, and Dinah went way higher into that upper register than we've ever heard from her before. Hey, if it was live, I'm immediately a much bigger Fifth Harmony fan. I'm just not buying it.
Grade: A- or F

Carly Rose Sonenclar - "How Do I Live"
Do you know what would have made the appearance by LeAnn Rimes more surprising? Not telling us there was a surprise coming from Carly Rose. I might have been a bit surprised.  Their duet together was very nice.  Because Leann has that country sound, and Carly doesn't, the two voices mixed well together.
Grade: B

Tate Stevens - "Pontoon"
I was ready to say that this was exactly what Tate needed; a popular song that would show me that all he needs is a good song writer in his corner to really make a stamp on the country music world. That is, after all, a huge part of the business. Unfortunately, when he tried to go hit the higher notes just before Little Big Town came out, Tate just couldn't do it. He doesn't have that kind of range. Then, on top of that, he was completely drowned out by the group once they started singing together. It wasn't a good showcase for him.
Grade: C-

Fifth Harmony - "Give Your Heart a Break"
I think we might have something here people...Demi Lovato and the Harmonies! That was fantastic, and it didn't sound fake, so maybe their first performance was actually genuine. I still don't think that this final performance show is the right spot to put these celebrity duets, but I'm glad that this one was put on display. Other than a sharp not from Dinah, this was a great rendition of Demi's song.
Grade: A-

Carly Rose Sonenclar - "Hallelujah"
Before she went for that glory note, this was a very boring and sleepy rendition of a song that is very, very difficult to do poorly. She almost brought it home at the end, but not quite. She didn't have a great night here in her final shot to win this thing.
Grade: B-

Tate Stevens - "Tomorrow"
Did it pale in comparison to Chris Young's original?  Sure, he still lacks a level of richness in his voice that will never be achieved, but this was a good song choice for him.  It fit in his zone, and it showcased him as well as anything he's done to this point in the competition.
Grade: B+

Fifth Harmony - "Let it Be"
Well, the complete 180 has been turned. This was my favorite performance of the night, which means Fifth Harmony was my favorite act of The X Factor Finals. Because they did so much group singing in their first two songs, I not only didn't hate the fact that they just took turns singing here, I think it made more of an impact than anything else they could have done. The five girls were each able to showcase their strengths, and the last two - in switching up the tempo - gave us something we've never heard on a competition show with "Let it Be." They completely turned it on its head, giving Dinah and Camila a chance to mix things up in a really fun way. Brava.
Grade: A

Well that is it, TV Fanatics! It will take America's votes to crown the winner. If I were going based on the season, I would pick Carly Rose, but if I'm going off of tonight's performances I would vote for Fifth Harmony.

Who do YOU think should win The X Factor's second season?

Dan Forcella is a TV Fanatic Staff Writer. Follow him on Twitter.

Tags: The X Factor, Reviews
From Around the Web