The X Factor Top 6 Review: Unplugging It
by Dan Forcella at .
The Top 6 sang two songs each on Wednesday's episode of The X Factor.  One was an unplugged performance - which generally was pretty good - and one was a song chosen by America - which generally wasn't as good.
Let's get right to it and recap what all went down before Mario Lopez and Khloe Kardashian begin talking again...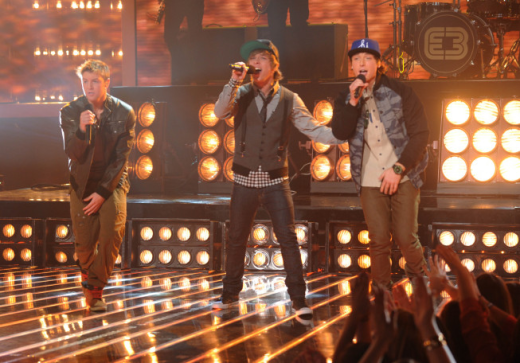 Unplugged

CeCe Frey - "Edge of Glory"
Demi said that she was glad that CeCe was her final contestant in the competition.  That is quite a slap in the face to Jennel and Paige.  During her intro video, the young songstress mentioned that her early performances were overproduced in order to hide her voice.  Why would she admit to that?  Once we got to the actual performance, I was pleasantly surprised.  This was the CeCe with a great voice that we saw way back in the audition process.  Her lower register still needs work, but she hit the big notes, and had a great tone going throughout.
Grade: A-

Emblem3 - "Just the Way You Are"
A downgraded version of the Jonas Brothers five years ago is still good enough to make it in this business.  I don't know why Demi hates these guys so much, because I enjoyed them yet again.  And unlike what Demi kept saying over the past couple of weeks, this wasn't very predictable.  Could a couple of the boys be a bit more on pitch?  Sure, but I'll take their energy and honest joy up on stage over a unbelievable but boring singer.
Grade: B+

Carly Rose Sonenclar - "As Long as You Love Me"
Through three performances it seems that unplugged night is working extremely well.  Carly Rose has been spot on throughout this performance, but this was something even better than the norm for the youngster.  For the first time, it seemed like she was actually a teenager, and that was a good thing.  This felt current, it felt hip, and it was still sang amazingly well.
Grade: A

Fifth Harmony - "Set Fire to the Rain"
L.A. Reid is on fire this season!  I couldn't agree more with him hating on Fifth Harmony for never singing harmonies.  I have complained since day one that this Frankengroup just handed the mic off to one another taking turns singing solos, and that's exactly what I saw happen again tonight.  They all sing very well, and continue to be smart by letting the girl in the middle do most of the heavy lifting, but I need more out of a group.
Grade: C

Diamond White - "It's a Man's World"
Where are all the judges who love to comment on how teens sing songs that are too old for them?  That is just a much too mature song for a 13 year old to perform, and after watching someone like Juliet Simms do it perfectly on The Voice last season, it's hard to even take this version seriously.  This was the first time that it was really noticeable that Diamond was just a little girl up there.
Grade: C

Tate Stevens - "Living On a Prayer"
Hey!  Demi said something that I agreed with.  Tate skipping out on the high note in the chorus really ruined this performance, because the momentum of the track was lost when he just went to the lower register.  I don't think he needs to sing a country song every time, as taking a rock song and making it country is a nice touch, but nothing about this performance in particular got me excited.
Grade: B-

Pepsi Challenge

CeCe Frey - "Part of Me"
And with the first plugged in song of the night, we were treated to the return of the gigantic background track.  It did a very nice job while CeCe sang in and out of tune intermittently.  This was completely different than her first performance, and that wasn't a good thing.
Grade: C-

Emblem3 - "Forever Young"
I like these guys a lot, so I obviously enjoyed that, but even I could see that this was a bit boring.  When you have a kid that specializes in rap-esque moments, why would you have thrown together the Jay-Z version of this track?  Instead, they forced him to sing a verse, and it wasn't great.  They have been better, and I'm worried that they're slipping a bit.
Grade: B-

Carly Rose Sonenclar - "If I Were a Boy"
Just for the sake of argument, let's find something critical to say about Carly.  I'm beginning to think that her nearly perfect vocals may be a detriment.  We like to see some imperfections, we like to see some grit in a song, and she just doesn't have those.  If it's possible, her sound may be TOO smooth.  Still, she's probably the best here.
Grade: B+

Fifth Harmony - "Give Your Heart a Break"
Yes they sang in harmony, they sounded like a group, but it still fell short of something that could keep me interested.  The girl in the purple pants needs to just do her own thing, because she continues to impress me with the 30 seconds of solo time she gets every performance.
Grade: B-

Diamond White - "Diamonds"
She definitely gets bonus points for the entrance, and fans get points for picking a song that has her name in it, but I didn't like this performance very much at all.  It sounded like she was screeching at me most of the time, and I couldn't get past that fact.
Grade: C

Tate Stevens - "If Tomorrow Never Comes"
That was a very nice, very ordinary performance from Tate Stevens.  I might sound like a broke record at this point, but I've heard renditions of Garth Brooks like that every time I go to a dive bar in Nashville.  Tat is usually on key, but his voice lacks a richness that was extremely evident on this Garth track.  He just couldn't fill out the song.
Grade: B

Weekly Rankings
1. Carly Rose Sonenclar - A/B+
2. Emblem3 - B+/B-
3. Tate Stevens - B-/B
4. CeCe Frey - A-/C-
5. Fifth Harmony - C/B-
6. Diamond White - C/C

There are only four spots in the semifinals people!  Who do you think should make it?  Who should hit the road?  Vote for you favorite in the poll below...

Dan Forcella is a TV Fanatic Staff Writer. Follow him on Twitter.

Tags: The X Factor, Reviews
From Around the Web