With Hart of Dixie Season 2 finally getting back underway tonight, TV Fanatic jumped on the phone with creator Leila Gerstein to discuss upcoming happenings in Bluebell.
From Pioneer Day to a couple's BIG day, gather up some scoop on The CW show's future below...
-------------------------------------------
This season feels lighter than last season. Was that a goal you and the writers discussed at the outset?
It kind of naturally happened that way. I think because Zoe was happy, it's helping the show be lighter. We are all happy and the show became much more of a romantic comedy once she had actually made a choice. We decided to go for the humor of the moment.
What can we expect with the second half of Season 2?
We will see Zoe and Wade try to make it as a real couple in the world. Which will be a lot of fun because they are both so different and they each come with their own enormous set of baggage. The first episode back is Pioneer Day and they have to pose as Bluebell's founding couple while they are in the middle of their first fight.
We are going to continue to see George and Tansy, which I find to be a delightful experience.
We have some really fun events happening in the future and we will finally see a wedding!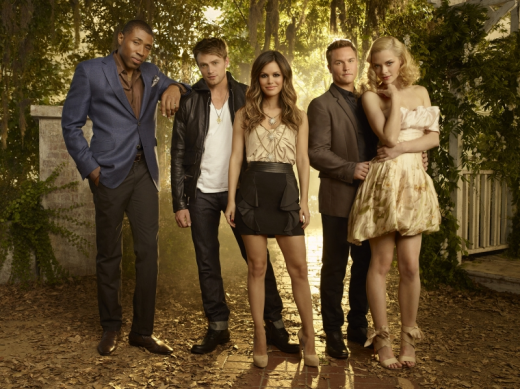 I can only imagine whose wedding it's going to be. I'm partially hoping its Brick and Shelby!
We are going to continue to play out Brick and Shelby. We love her as well.

Lemon and Lavon have always been my favorite pairing on Dixie. Will Lemon make it her mission to win Lavon's heart back? Is Lavon going to do what he does best and stay clueless?
I feel like, in a way, they have been the epic couple. I think we all know that Lemon got her feelings for Lavon back. For Lavon, he has been too burned by her in the past, but he will not remain clueless for the whole season. He will catch up.

I know that you guys have asked McKayla Maroney to come back a few more times. Do you see her character recurring for the rest of the season?
She made a HUGE impression! She had one line and she was hysterical. She is already in two more episodes that we shot and we may have her back again. We think she's so funny... There's a Strawberry Festival [in episode 213] and she rode on the fire truck and I made a little cameo with my daughter.

Are we going to see more of Rose?
I have always loved Rose; she is one of my favorite characters. We hope to have her on as often as we can. She does live in Texas, so we don't bring her back [just] to do a couple of lines. When she comes back, we give her a storyline. We love her and she will certainly be back.

What is your favorite aspect, as the creator and writer, of Hart of Dixie?
We are really lucky because we shoot the entire show on the lot. This morning I walked over and watched a scene in the beauty parlor. I love going to Bluebell. I love waking up and stopping by Bluebell to have a cup of coffee to see what's going on. I would have to say being able to be a part of it all.

Hart of Dixie returns TONIGHT on The CW at 8/7c.

Tags: Hart of Dixie, Exclusives, Spoilers, Interviews
Want more Hart of Dixie?
Sign up for our daily newsletter and receive the latest tv news delivered to your inbox for free!
More From TV Fanatic
What will go down this week on True Blood? Check out four photos from "May Be the Last Time" now.
Corrupt cops. Sex on patrol cars. After the serious drama of Southland, Shawn Hatosy talks about getting Reckless on CBS.
What can fans look forward to on Bones Season 10? We tracked down Stephen Nathan and Emily Deschanel to find out!
The Vikings cast raided Comic-Con last weekend. And we gathered up plenty of scoop from the stars regarding Season 3.
---