Pretty Little Liars Season 3 finally resumes tomorrow night, with Mona out of the nut house and Byron in the crosshairs of his daughter.
Having spent such a long time away from our favorite Rosewood residents, I spoke with producer Oliver Goldstick about the show's return and asked for a character-by-character breakdown of what we can expect from Hanna, Aria and company going forward.
Brace yourself, fans, shocking revelations and hidden agendas are on the horizon...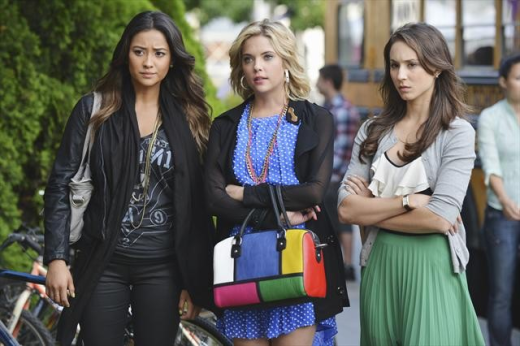 TOBY: "He's many shades of wrong. It will be earth-shattering for all the Pretty Little Liars who trusted this person, but he came back to Rosewood with an axe to grind."

SPENCER: "You're in for a ride with her. It's quite a journey. She already had a hard time trusting because of the family she comes from; Toby had been her salvation, in a way. This will pixilate her in a very interesting way. She will also come eye-to-eye and go claw-to-claw with Mona.

ARIA: "This is really scary. We've never, ever hinted at one of our parents being a suspect in Alison's death, so this is a whole new juncture. Issues with Ezra will also put her through the ringer."

EZRA: "He's hidden his family from Aria, so now everything has to be taken with a grain of salt. Look at him again: Why was he withholding? There may be a lot there."

MONA: "The bigger the lie, the more the sociopath believes it. She was so hurt by Alison and so damaged, she'll still working through some things. The real question: is she a puppet master? Or a mere puppet?"

HANNA: "We'll be introduced to Caleb's family and someone from Caleb's past will create conflict."

EMILY: "She stumbles upon some incredible Alison revelations, which will lead her to drive the mystery and unearth what happened to Alison this summer… there will be Alison flashbacks and Emily will get some shocking answers by pursuing the issue to the darkest places."

LUCAS: "He's playing with too many sharp objects. He's playing on the wrong side of the sandbox and walking in the danger zone. He's gonna get hurt."

Pretty Little Liars returns tomorrow night at 8/7c on ABC Family. Which of these storylines are you most excited for?

Matt Richenthal is the Editor in Chief of TV Fanatic. Follow him on Twitter and on Google+.

Tags: Exclusives, Pretty Little Liars, Interviews, Spoilers