Cult Exclusive: Robert Knepper on Public Responsibility, "Love Letter to Television"
by Matt Richenthal at . Comments
Robert Knepper had a very good reason to sign on for Cult, the mysterious CW drama whose second episode airs tonight.
"I was in Santa Fe shooting the SEAL Team 6 movie," he told me last night over the phone. "When I heard I was the pro type for Billy Grimm. So it seemed like something I should check out."
Grimm, of course, is the lead character on "Cult," the TV series within the show itself, a premise that some may find confusing, but which Knepper refers to as "deceptively simple."
The entire set-up is really an "homage," the actor says, a "love letter to television."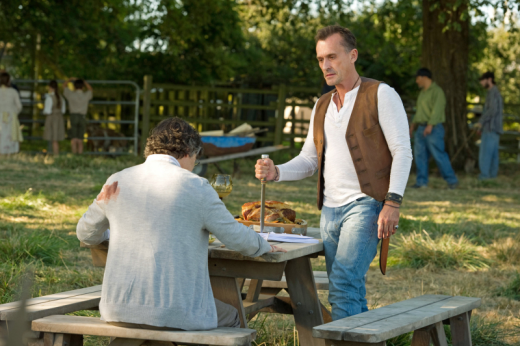 And along similar lines, Grimm is a kind of homage to the reputation Knepper has carved out for himself. Following his beloved role as the creepy murderer T-Bag on Prison Break, the star says he was recognized everywhere he went.

"But it's a little weird to go around and be known as such an anti-hero," he said, joking about what Anthony Hopkins must have gone through after Silence of the Lambs.

Roger Reeves receives the same reaction on Cult, with everyone he meets assuming he's as evil as the man he portrays on television.

"I was channeling Robert Mitchum for most of the season," Knepper says of how he plays an evil leader such as Grimm. "He's quiet, strong, charismatic, totally different than T-Bag, who was a slithering reptile. He couldn't have a cult following if he paid people."

The topic of serial killers and cult leaders can strike a little too close for some these days, an area of sensitivity Knepper and creator Rockne S. O'Bannon are careful to navigate.

"Rockne loves to quote Rod Sterling," Knepper says. "And he once said 'I'm responsible to the public, but not for the public.' I really like that. Our show definitely has a message, but our main responsibility is to entertain, to push your imagination."

And Knepper will be pushing it this season alongside Matt Davis, who earned himself quite the cult-like following on The Vampire Diaries.

Is there any dirt Knepper can spill on the actor? Sadly, no. He could only gush over his co-star.

"It's one thing to work with an actor you like and respect," Knepper said of Davis. "But then you turn around and see the finished product… he is such a great guy. Such a mensch. We sort of tag team this season - it's his story, then my story, then his story - and we just have such great mutual respect for each other."

Cult airs Tuesday nights at 9 on The CW. Watch the promo now for tonight's "In the Blood."

Matt Richenthal is the Editor in Chief of TV Fanatic. Follow him on Twitter and on Google+.

Tags: Exclusives, Interviews, Cult, Robert Knepper