Austin Butler Teases Carrie Bradshaw Birthday, Relationship Trouble to Come
by Jim Halterman at . Comments
Ready to wish Carrie Bradshaw a happy 17th birthday?
This major occasion is at the center of tonight's Carrie Diaries episode, and while our heroine has been navigating her lives in New York and at home in the suburbs with her friends, family and now-boyfriend Sebastian, watch for things to get even more complicated on "The Long and Winding Road."
I jumped on the phone late last week to get a preview from Butler himself, who highlighted his perception of Sebastian since the pilot, some of obstacles coming this couple's way and what his gut is telling him about The CW granting the freshman series another year...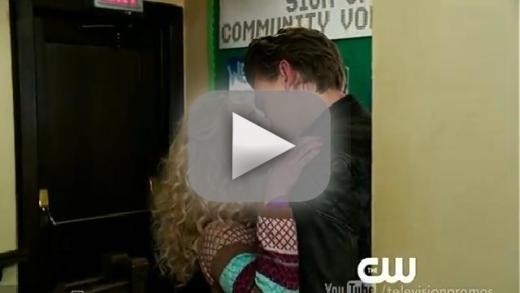 Bad or Good You're not the only one who thought Sebastian Kydd was going to be a negative influence on Carrie in the beginning. "I originally thought that he was going to be kind of a bad guy," Butler said, "but he turned out to have just a really good heart and he just has a lot of baggage that causes him to sometimes do things that can be perceived as a bad guy's thing. I've really been impressed by his good heart."

Walls, Walls, Walls Watch for Sebastian's conflicts with his parents to continue and lead to more problems: "The thing that happens is kind of this thing where he puts up a lot of walls and it can hurt several relationships because of his relationship with his mom and dad," says Butler. Of course, his romance with Carrie will not be immune to that, as we'll see that in tonight's episode.

Alcohol problem? Booze does play a role this week, but could this be a start of a future problem for the troubled young man? "There are some issues with Sebastian and his parents that cause issues with Carrie," the actor said. "Then [Sebastian] tries to numb it with alcohol at one point and so that kind of all comes together at a party."

New York, New York! Expect Carrie's increasingly strong pull to New York to eventually put a wedge between 'KyddShaw.'  Butler admitted that Sebastian gets that "Carrie is really happy the more she's in New York but it's essentially two lives and that's bound to cause a little bit of an issue at some point between Sebastian and her."

While he may be supportive of her ambitions, could he also end up getting more than a bit lonely? "She's trying to really live two lives and he feels like he's only one of them," Butler said.

Talk To Me, Dammit! The way that Sebastian handles problems will show that he and Carrie communicate differently but can they survive that difference?  Butler explained: "Sebastian handles his pain with humor and stuff but then Carrie has a hard time dealing with him keeping stuff to himself. It causes issues." With so much going on for both characters, lack of communication could become a major problem.

More Sebastian/Mouse, Please! In Butler's opinion, the friendship between the unlikely twosome is a good thing: "They have a pretty good friendship, which is kind of cool. It's like that they had that alone time together and they had their own little quirky things. I hope there's more of that.

More Donna Drama? They had a pretty low key break-up, but will troublemaker Donna come back around now that she and Walt are over? "She manages to keep her cool for the most part," he said. However he also knows that things could shift depending on Donna's mood. "She doesn't take things too personally for the most part but you can tell when she really wants something and then she just makes other people's lives living hell."

Favorite Scenes? Asked what part of the show he's especially liked and Butler surprisingly talked about Sebastian's home life. "I like seeing the stuff between him and his mom and all that kind of stuff. That kind of peels back another layer of him. That's what I really enjoy."

The Carrie Diaries: Season 2?  The CW has yet to renew the freshman series and Butler admitted he doesn't try to think about it at this point. "I've been on shows before where people have been really confidant and then they get picked up and then other shows where they're not confidant and it does get picked up."

Butler is well aware that "there's so many variables that go into this show, there's nothing that I can do after I get off the set so that's what I focus on." Fingers are crossed!

Jim Halterman is the West Coast Editor of TV Fanatic and the owner of JimHalterman.com. Follow him on Twitter.

Tags: Exclusives, Interviews, Spoilers, The Carrie Diaries