With HR rebuilding, a mysterious organization revealed, a new female super spy added to the team, and Root still trying to find the Machine, it's a wonder that Reese, Finch, Carter and Fusco find any time to kick back and relax.

And now with the Machine unleashed, it looks like their work is only just beginning.

So how did the sophomore season fare? Read on to find out what we thought of Person of Interest Season 2 in this TV Fanatic Report Card...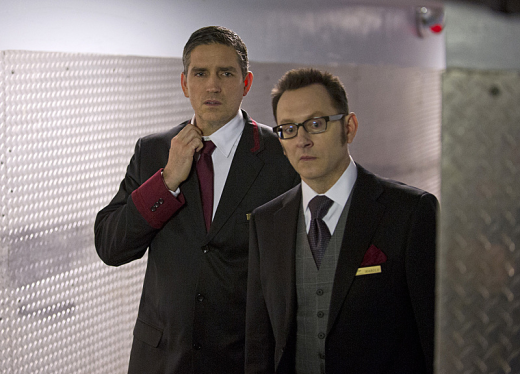 Best episode: This was hard to pick because there were so many solid episodes this season including the last two, "Zero Day" and "God Mode." Even the controversial yet unique introduction of Sam Shaw was a favorite of mine. But I'm going to pick the hotel centric "Booked Solid." Maybe I just liked seeing Zoe Morgan return, but this episode seemed to have it all including action, humor, and a little flirting between Reese and Zoe. And while the episode was pure entertaining fun, the larger story revealed a major twist: Root was infiltrating the big wigs at Washington.

Worst episode: It's unfortunate, but Kara's return felt far too quick and dropped in "Dead Reckoning." Not only did it seem pointless to have Reese and Snow do her work (she most of the time just did it all anyway), but she felt like a silly villain complete with "bad guy" dialogue. I was hoping to see more from her, especially with regards to Reese, but we never really got into her character besides the fact she was working for a new mysterious group connected to the machine. Now her actions on releasing the virus set up what was a great final outcome, but ultimately, the episode left much to be desired. RIP Kara.

Best character: In a lot of ways, Person of Interest Season 1 was heavily focused on Reese (who continues to show how much of a cool character he is), yet season 2 allowed viewers to really zero in on Finch. I'm going to give him best character because we saw so many facets from his early days of ignoring the "irrelevant numbers," his loving side with Grace, his friendship with Nathan Ingram and Reese, and his determination to do good even when the chips were down. It's great to see his character grow and there is clearly so much more to learn.

Worst character: I'm digging deep for this one because the core cast and a majority of the recurring characters are fantastic, but worst character has to be Detective Raymond Terney. He just came across as too obvious and cliche of a bad guy especially when going after Carter. He wasn't in a ton of scenes so it never felt like an overuse, but there wasn't near as much depth to his character as other ones we've gotten to see for only one episode. Good thing Carter got the best of him.

Best recurring character: While I'm on board with Sam Shaw and curious what they plan to do with her character, and Leon never fails to crack me up with his outrageous situations and humor, I've got to give it to Root. There's something about the way Amy Acker allows Root to be brilliantly genius and homicidal maniac at the same time. Add that to the fact that she finds a certain connection to Finch and a determination to the Machine, she's a compelling character to watch on screen. I wonder what her getting that last phone call on the finale means?

Hopes for Season 3: With another solid season in the books, I hope the show keeps it going and further expands on the characters and the universe this show has created. I got a sense from speaking with EPs Jonathan Nolan and Greg Plageman that they've got concepts mapped out for further seasons which makes it great to watch a real story unfold. I definitely want to learn some more about Reese, hopefully see Finch reunite with Grace, Bear get in some more action, and another season that combines the larger and smaller stories so succinctly that the humor, drama, and everything in between makes for a continuation of one of TV's top shows.

Overall Grade: A-

YOUR turn, Person of Interest Fanatics: Grade Season 2 now...

Sean McKenna is a TV Fanatic Staff Writer. Follow him on Twitter.

Tags: TV Fanatic Report Cards, Person of Interest