Chicago Fire didn't start out... well, on fire.
But with some smart writing, and a little patience from NBC, the drama turned into one of the highlights of an otherwise lackluster television season. Hopefully, with a little help from The Voice this fall, Chicago Fire will turn into a legitimate hit.
Let's run it down Report Card style, shall we?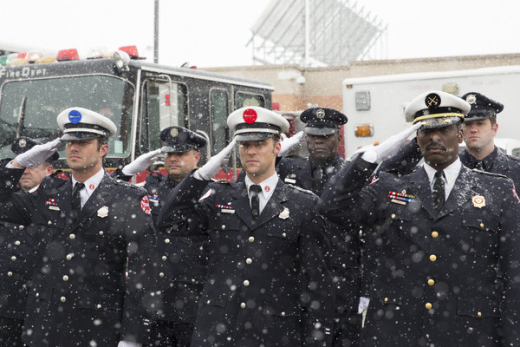 Best Episode: "A Coffin That Small" was an emotionally draining and tear-jerking hour. As compelling as the characters can be, along with the drama in which they are embroiled, this episode was gripping because they granted a little boy's dream. The entire house put their differences aside, worried about the drama for another day, and, most importantly, their positive influence changed a child's life for the better.

Worst Episode: The premiere is still the weakest in an otherwise very strong season. It didn't offer anything incredible or interesting aside from Casey and Severide. Thankfully, as the season progressed, the show quickly found its footing, putting an end to the elements that weren't working.

Best Character: Kelly Severide. In the midseason report card this was a tie between Severide and Casey, but as the season progressed Kelly really came into his own. His shoulder issues were finally resolved, and he only grew more lovable and heroic as the season progressed. Kelly's had to deal with a lot, and he endures and gets through all of it with dignity and (mostly) levelheaded. But, most of all, he's an increasingly kind and generous man who is always ready and willing to help even when he's not on the job.

Honorable Mention: Chief Boden. He's the glue that holds everyone together in his firehouse. He's a man with past mistakes, but he doesn't let those mistakes define him. Rather those mistakes guide him; he uses them to make better choices in the future and uses the errors of his past to help guide and mold his firehouse. He's a strong man who expects a lot, but he gives a lot in return.

Worst Character: While there is no character I truly despise (even Voight has grown on me), not all characters are created equal. Joe Cruz doesn't offer much right now. His decision to let Flacko die in the fire, and his subsequent downward spiral, didn't do much for me. His presence in the background ever since hasn't really elevated his character either.

Best Quote: Take it away, Boden: Let me tell you about one minute. I've been there, most of us have. In my case I was sure, surer than you are right now even. That if I'd had that one minute I would've been able to go in there and rescue those people. My best buddy and I we went running back in, the fire was trapped in the ceiling. We couldn't see it so we didn't know. We didn't have one minute, we lost the victims, I lost my friend. I've got a scar on my back that reminds me every single day about the price of playing beat the clock, and it's my job to make sure that you never get any kind of reminder.

Hopes for the Future: I'm excited for the resolution of some of the cliffhangers. I'm curious to see how Kelly's sudden news of a pregnant Renee will play into his friendship with Shay wanting to get pregnant. Casey can barely keep it together after Hallie's death.

Aside from those cliffhangers, I'm excited to see how Chicago PD will figure into the stories of Chicago Fire. Will the spinoff attempt the Grey's Anatomy/Private Practice "crossover events," or will they be mostly separate entities?

Finally, I really want to see some of the periphery characters come into their own: Mouch, Cruz and Otis at the house; and some of the family members such as Casey's Mom Nancy and Kelly's father Benny.

Season Grade: A.

YOUR turn, TV Fanatics: Grade Chicago Fire Season 1 now:

Nick McHatton is a TV Fanatic Staff Writer. Follow him on Twitter.

Tags: TV Fanatic Report Cards, Chicago Fire